Why Fantasy Draft Sports are so Popular With Gamers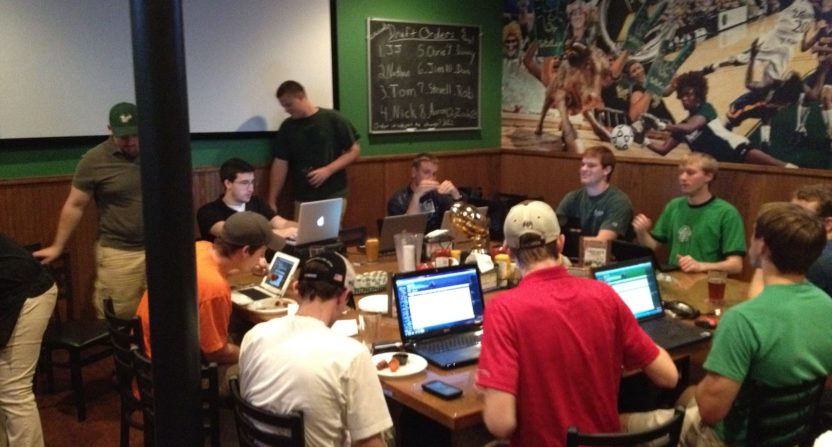 The popularity of fantasy sports has increased exponentially over the last decade with over 60m users in North America alone. Fantasy football is the most popular of the fantasy sports in the US with eighty percent of players opting to draft a football franchise. However, the phenomenon has led to a huge increase in demand from fans of their particular sports for their own fantasy sports draft game and it is now being embraced by fans of MLB, NHL, NBA and soccer in record numbers. There is a crossover between fantasy sports users and gamers and its popularity amongst the gaming community has become apparent in recent years. But what is it that is making gamers put down the controller and pick up the DraftKings app?
Perhaps the most obvious reason for gamers' interest in fantasy sport is the rise of fantasy eSports. The concept of fantasy eSports is essentially the exact same as its predecessor. Users are given an initial budget or to draft players before entering into contests for the chance to win big cash prizes. However, rather than drafting players from your favourite sports leagues, users create virtual teams consisting of professional eSports players. Where users would usually earn points from touchdowns, interceptions, and field goals they instead earn points based on in-game stats of their eSports players such as kills/deaths/assists etc. Providers like DraftKings offer a direct line between those who play fantasy eSports and others who play normal fantasy sports meaning that millions are very likely to dip their toes into the water of fantasy football.
The advent of the internet in the 90s through to the early 00s saw a gigantic boom in fantasy sports. From 500k players in 1988 to over 15 million in 2003, sports fans revelled in competing with their friends across the street whilst also being able to test their skills against players in different time zones. That trend is echoed in the gaming community and as wireless broadband has become faster and reached more homes in the US, so have games consoles with three-quarters of all US households now including someone who plays video games. What started as a fun way to pass time with a couple of friends and an extra controller has morphed into a way to test and showcase your skills when competing against millions of people around the world. The lure of competition against real people as opposed to AI has seen online gaming become one of the most popular pastimes in the world and has now developed into a competitive sport, whilst also opening up a natural synergy with fantasy sport.
Do not be fooled by its simple concept; much like eSports, there is a finesse to becoming a good fantasy sports player. In fact, there is even a science behind it. Researchers at MIT conducted a study that found the success, or lack thereof, of fantasy football players is based on skill rather than luck. As gamers are constantly trying to hone their skills on their video game of choice, fantasy football is yet another skill they are hungry to master. The similarities in the competitive nature of both fantasy sports and gaming have gone a long way to encouraging gamers to start drafting their fantasy franchise. With advancements in technology meaning you can now coach and scout your team on the go, it is even more accessible. When gamers are away from their games consoles and PCs, they can take out their phone or tablet and manage their fantasy franchise.
Much like gaming, fantasy sport has become just as much a social experience as it has a fun way to compete and the social aspect of fantasy sports has allowed for a lot of crossover from gamers. For over a decade now gamers have dedicated themselves to content production. Billions of viewers flock to YouTube to watch their favourite gamers. Whilst it has been an incredible marketing tool for fantasy sports, social media has become a great platform for fantasy players to also create a community. Whether it's Twitter, Facebook or YouTube, fantasy sports players and gamers have found a way to create a dialogue with each other where they can talk strategy, update and even trash talk. Because let's face it, there is nothing better than bragging about a big win to your buddies and taking jabs at their poor performances.
Fantasy football by its very nature has the ability to attract people who formerly may not have had any interest in the NFL. By adding a competitive aspect for spectators, it has given casual fans a new perspective and enjoyment that they have not experienced previously. Each season, more and more people from all walks of life are being drawn into the world of fantasy football and it appears that gamers are just the latest. They are constantly looking for new ways to test their gaming skills against real people and they have found another opportunity to do just that. By transferring their skills over to fantasy, they may even have an edge over long time players. Whether it is for their love of gaming, the thrill of competition or just for the big cash prizes that providers like DraftKings offer, a new generation of players has entered into the fray.