Who is Ash Kaashh and Why She is Famous?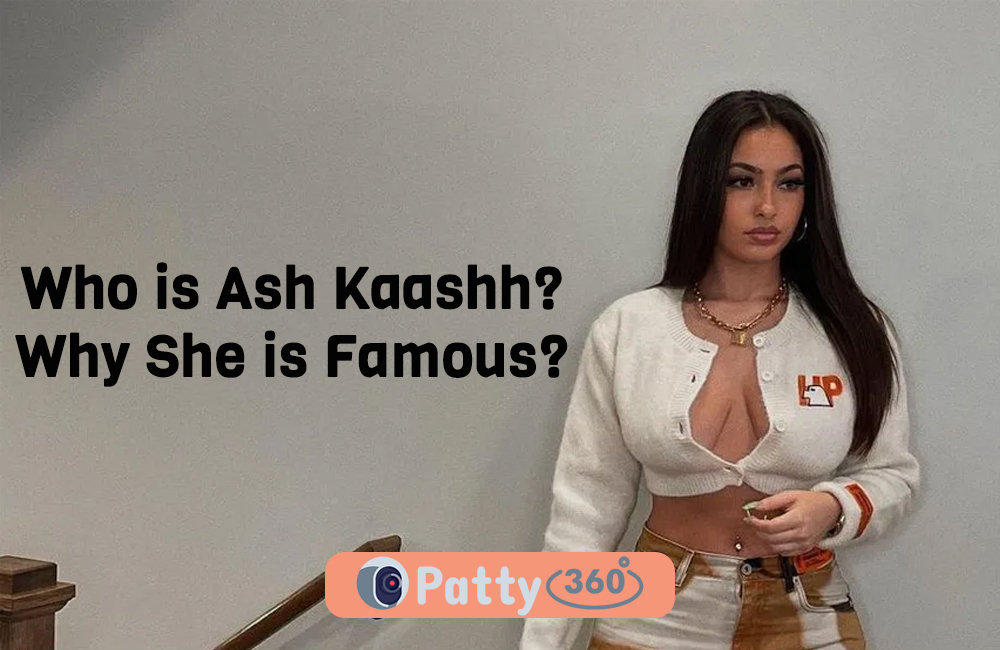 Social media influencers and personalities are on a rampant rise. With the growing popularity of short-form content on TikTok, more and more creative content creators and entertainers are gaining exposure. Ash Kaashh is a popular TikTok personality who has gained massive popularity in a short timeframe on the said social media platform.
Unlike most other TikTok creators, Ash's niche of videos is quite different, unique, and creative. She is known for her stunning nail art designs and techniques that she shares with her audience across different social media platforms, including TikTok, Instagram, and even Facebook.
If you are intrigued to know more about Ash Kaashh and her social media life, we'd recommend that you keep on scrolling.
Who is Ash Kaashh?
Ash Kaash was born on January 09, 1998, in Chicago, Illinois and her birth name is Ashley. She is the eldest sibling in her family and is 24 years old. Ash has stood out from the crowd right from her childhood days because of her condition called heterochromia, which means that her eyes are of different colors from one another.
Although there isn't much information about Ash's personal or family life, it is believed that Ash completed her high school and college, following which she joined the entertainment industry to work as a model.
Her career in the entertainment industry dates back to her late teenage years and that has paid off a lot in helping her propel and grow her career exponentially. She started at a very young age and has managed to gather a lot of exposure in the field, before switching to pursuing social media full-time.
How and why is Ash Kaashh Famous?
Given that TikTok has created a platform for so many creative heads, it isn't surprising to ask how Ash Kaashh rose to fame with social media.
Ash's primary presence and popularity grew from her TikTok account, which blew up and garnered millions of views, putting her in the limelight. She seriously started posting across her social media platforms back in 2018 to become a millionaire.
Her journey on social media is quite different depending on the platform she engages in. On Instagram, Ash posted images from her modeling gigs while she leveraged TikTok to share lip-syncing videos to the trending songs because that was trending at the time when TikTok started initially.
Besides TikTok, Ash has a pretty popular name on the subscription-based platform, OnlyFans. She is one of the top creators there and produces exclusive adult and NSFW content there for her subscribers. She charges around $40 per month on her OnlyFans account.
Ash's popularity further shot through the roof when rappers 1nonly and lilbubblegum used her in one of their songs, highlighting a leaked sex tape. The video and rap currently have over 12 million views on the social media platform.
Over time, Ash decided to leverage her popularity and fanbase and launched her virtual nail shop called Heaven Sent Nails. She is also the founder and CEO of Fatal Attraction, which is her unisex clothing line.
With her millions of accumulated followers across different social media platforms, Ash has also landed brand collaborations with several popular brands like Fashion Nova and Cash Clout. Currently, she is pursuing social media full-time and is growing at an alarmingly fast rate due to her personality and appearance.
Who is Ash Kaashh Dating?
Interests in love life, dating, and relationship is quite common across social media personalities. So, when Ash started gaining traction across different social media platforms, people started getting inquisitive about her love life.
However, the news is that Ash isn't dating anyone at the moment. At least, that's what is known publicly. Given how private Ash is about her life, especially her family, it won't be surprised if she has a partner that no one is aware of.
But, as of public knowledge, there is no one that Ash is dating currently.
Were there rumors about Ash's Death?
As you grow on any social media platform, being wired into controversies is quite common. Given that Ash has a diverse fanbase that knows her from different social media platforms; it isn't surprising that she has witnessed a lot of hate and criticism over time.
However, the biggest controversy that popped up was when people started speculating that Ash Kaashh died a few months ago, which was not the truth at all.
The rumor started when someone took to their social media account to post a picture of her and followed it up with a tribute to her, leaving fans speculating about a lot of things in the meanwhile. However, all the rumors were quickly shut down by the internet personality herself.
Another controversy that Ash found herself in is cosmetic procedures. Several tabloids pointed out that Ash had undergone a lot of surgeries to transition. However, Ash took to her social media platforms to clarify that all of these reports and speculations are untrue.
Net worth of Ash Kaashh
Although nothing can be set in stone about Ash's net worth yet, it is speculated that she has garnered around $800,000 in net worth since her growing popularity in 2018.
Besides her social media income, Ash also gains a steady income from her subscriptions from OnlyFans. There are reports that she has worked with multiple brands to promote their products, which further adds to her net worth.
Ash also accumulates her net worth from active investments and her own brand that she runs following her popularity across multiple social media platforms.
How many of these insights about Ash Kaashh that you knew of? Given how steadily Ash is gaining popularity across different social media platforms, don't be surprised if her manifestation of becoming a millionaire becomes a reality pretty soon. Also, if you aren't an avid TikTok user, she is fairly active on Instagram too where she has over 2 million followers and shares images from multiple of her modeling gigs.