10 Best Torrent Search Engine Sites: Working Ultimate P2P List for November 2022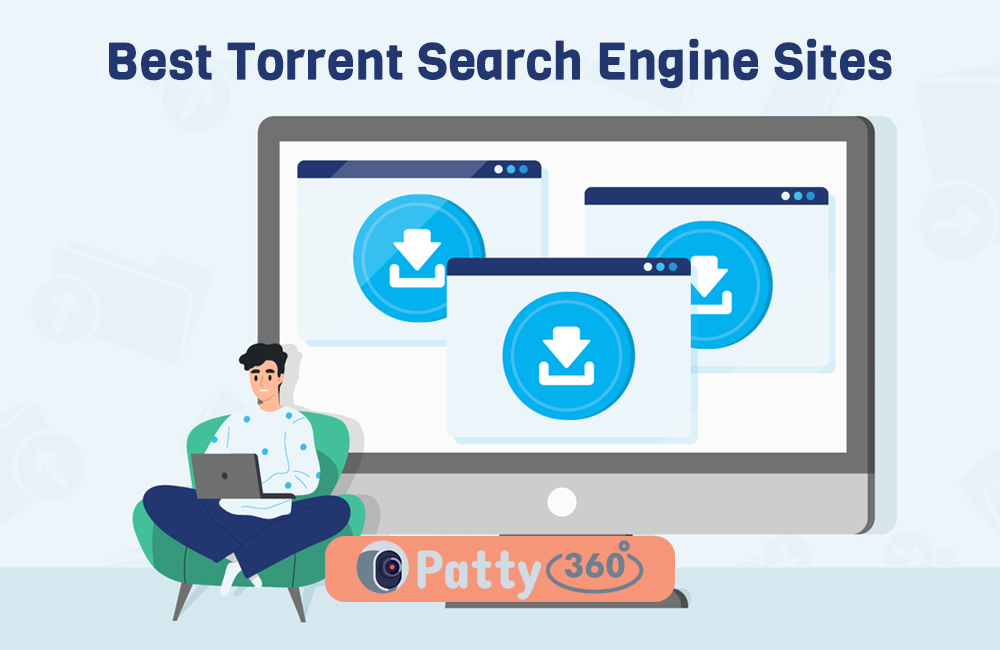 Torrent search engine sites have existed since the birth of the internet. Despite all the attempts taken by the government, these sites continue to operate. Millions of people are known to rely on torrent websites for their daily dose of entertainment.
Over the years, many torrent sites have come and gone. Since many torrent websites are taken down, it is difficult to figure out which ones are working and which ones are not. In this post, we will suggest you the top torrent search engine sites that are still active.
Why use torrent search engine sites?
We use torrent search engines to download torrent files of movies, TV shows, music, games, apps, e-Books, and more. Almost all torrent sites are free to use and allow users to download torrent files for free.
With torrent websites, you can watch all your favorite movies and TV series for free. Instead of spending hundreds of dollars on paid streaming services or going to the movie hall, you can simply download free torrents.
However, these torrent sites are illegal as they don't have permission to upload or distribute the content on their site. This is why it is recommended to use a VPN service whenever visiting such a site. The consequences won't be good if you get caught using a torrent website.
List of Best Torrents Search Engine Sites
This list consists of some of the most popular torrent websites that are still working despite all the odds.
Founded in 2003, The Pirate Bay has been a crowd favorite for years. With over 60 million monthly active monthly, it happens to be the largest torrent search engine site in the world. 
Over the years, it has dodged several takedown attempts. In 2020, the site was temporarily shut down, but now it's back with even more content. At present, there are over a million torrenting files available on this site. The best thing about The Pirate Bay is that it indicates to users whether a torrent is safe to download or not. While it can't ensure 100% protection against malware and viruses, it at least reduces the chances of getting infected.
Most torrents have a good number of seeders that allows for faster downloads. The user-friendly interface makes it easier to search and download torrents even for first-timers. The only drawback that this site has is the pop-up ads.
1337x torrent search engine came into existence in 2007, and since then it has been serving millions of users around the world. This site is most popular for high-quality torrents. From movies to music to TV shows, you will find a variety of torrent files on this site.
Unlike other torrent sites, 1337x is regularly updated with new content. It ensures that you get new content every time you log in to the site. The interface is clean, simple, and informative. It includes technical information on each torrent.
In comparison to other torrent websites, 1337x has very few ads. This is one of the main reasons that users are drawn to this site. It also ensures some level of privacy protection, which is very rare in torrent sites. Use a VPN for added security and a smooth download experience.
RARBG is a torrent site that needs no introduction. It has been serving people since 2008. Despite being a pirated website, it is active and thriving. However, it is banned in certain countries, but that shouldn't be a problem, as you can access the site using mirror URLs.
Like 1337x, RARBG is known for high-quality torrents. The site is run and maintained by a group of unknown moderators and has an active community. It verifies each torrent that is uploaded to the site. It provides a personalized user experience for easy torrent download.
Searching torrents on RARBG is very easy. Thanks to the search filters that allow you to look for files based on date added, number of leechers and seeders, and size. Although there are several pop-up ads, you can block them using an ad blocker. You can download torrents either as a guest or registered user.
In comparison to the other torrent sites in this list, Torrentz2 is relatively new. It was launched in 2016 and gives access to a large library of torrent files. Torrentz2 uses search queries to index torrent files from over 100 torrent download sites. You can go to one of the download sites by simply clicking on the magnet link.
While you will find all sorts of torrent files on Torrentz2, it is mainly used for music. It has an impressive collection of music torrents of varying genres. You can check if a torrent is verified or not, before downloading it.
Like most other torrent sites, Torrentz2 has a lot of pop-up ads. To download music and movies for free, you will have to at least deal with this much inconvenience. It also provides some amount of protection, so you can use the site without worries. Just make sure that you are using a reliable VPN.
There's hardly anyone who is not familiar with YTS. This is one of the most popular torrent websites in the world. It was founded in 2011 and is also known as YIFY. This site is mainly used for downloading high-quality movies and TV shows. It allows you to choose the desired resolution before downloading the file.
It boasts a simple and clean interface that is easy to navigate. It takes just a few seconds to search for the desired torrent file. Thanks to the advanced search function that makes it possible. It provides technical details including IMDB ratings and synopsis for users to check what they are downloading. It also recommends movies that you might like to watch.
Despite all the good things, there's a slight drawback. The site has plenty of ads, which is annoying to handle. Luckily, you can get rid of these ads using an ad blocker.
This is another popular site that is used for downloading torrents. It has been around since 2009. Despite all the shutdown attempts initiated by the government, LimeTorrents have managed to survive and thrive. Its library comprises over 10 million torrent files.
LimeTorrents is not limited to just movies and TV shows. It gives access to a huge collection of music, apps, and games as well. All you have to do is search for the torrent file and download it from the search results. 
It has a sleek interface that is both easy to use and visually pleasing. It allows you to filter torrents by verification status and health. When using LimeTorrents, you need to be careful of fake torrents. Avoid clicking on any random link that you see on the website.
Next up, we have Torlock which was founded in 2010. The unique thing about this site is that it pays its users for reporting fake torrents. You can earn $1 per fake torrent. This shows the level of commitment Torlock has for the users' safety.
As you log in to the website, the homepage will welcome you with the most popular and recent torrents for each category. Remember, recent releases are mostly copyrighted content, meaning downloading them is illegal. This is why you are advised to use a VPN for your safety.
The user-friendly interface allows for easy torrent searching. Type the name of the movie or TV shows that you wish to download and it will show up in the site's search result. Each torrent file includes technical details. This helps you know what's contained in the file.
This is one of the oldest torrent search engine sites out there. Although it was launched in 2003, it is still going on strong. Despite the tough competition from other big torrent sites, Demonoid continues to serve its loyal user base.
It has over 1 million torrent files in stock while new ones are added regularly. Demonoid is trusted by more than 10 million users. This establishes itself as one of the top torrent sites online. Talk about any TV show or movie, you are sure to find it on Demonoid.
In the past, users were required to register themselves on the site. However, that is not the case anymore. You can straight away open the site and start searching for files that you want to download. Besides movies and TV series, you can also download music and games.
If you have been using torrent sites for years, there's a good chance that you are familiar with IPTorrents. It is a private torrent search engine that receives around 7 million monthly active users. Since this is a private website, you can use it only if you are invited and make a donation.
If you manage to get access to IPTorrents, you will get to explore its huge library of movies and TV shows. Unlike other torrent platforms, IPTorrents doesn't have pop-up ads, which makes it safer to use. When using IPTorrents, you don't have to worry about accidentally clicking on spyware or malware links.
Another advantage of IPTorrents is the download speed. It is comparatively faster than other torrent websites. With a good internet connection, you can download torrent files in no time. The only con is that you have to donate $20 to get started.
Next in the line, we have Bibliotik which is one of the largest private torrenting websites out there. This site is meant for downloading e-Books. So if you are an avid reader, you might find this site helpful.
There are hundreds and thousands of e-Books available on Bibliotik. From fiction to novels and undergraduate to popular book series, you will find it all in one place. 
Bibliotik is a reliable torrenting site, where you can access unlimited free e-Books. It receives decent traffic every month. But since this is a private website, you need the invitation to get in. Unfortunately, they accept very limited members. You should consider yourself lucky if they approve your membership.
TorrentDownloads is not as popular as other torrent search engines in this list, but it is worth a try. Compared to other torrent sites like RARBG and Pirate Bay, TorrentDownloads has a smaller library.
Due to copyright issues, it is always under the radar of government officials. As a result, it is not available in many regions. If you can't access this site from your location, it's because it is banned in your location. The best solution to overcome the ban is to use a VPN.
The average torrent speeds range between 2-3 Mbps. A large number of pop-up ads are annoying, but there's nothing you can do about it. This site is good for obscure titles in different categories. Asian content seems to make a big part of their servers.
This is a unique torrent search engine that has existed for many years. In the past, it has faced many bans, but it has always managed to spring back. In terms of functioning, it is similar to Torrentz2. It tracks torrents from popular torrent sites like 1337x, The Pirate Bay, and others.
If you are looking for an easy-to-use torrent website, this could be a good choice for you. The fast download speeds save you time and effort. The plus point about Torrends is that it has very few ads. This allows you to download torrent files in peace.
Torrends has a monthly user base of 5 million. You can use this site for downloading obscure titles. It offers high-quality files, which is another plus point for the site.
Conclusion
So these are top torrent search engine sites that are still active and working. While these sites give access to millions of torrent files for free, they are still illegal to use. That's the reason they are banned in many countries. However, if you are still interested to use torrent sites, make sure you have a good VPN to have your back.