Celebrities Who Have University Degrees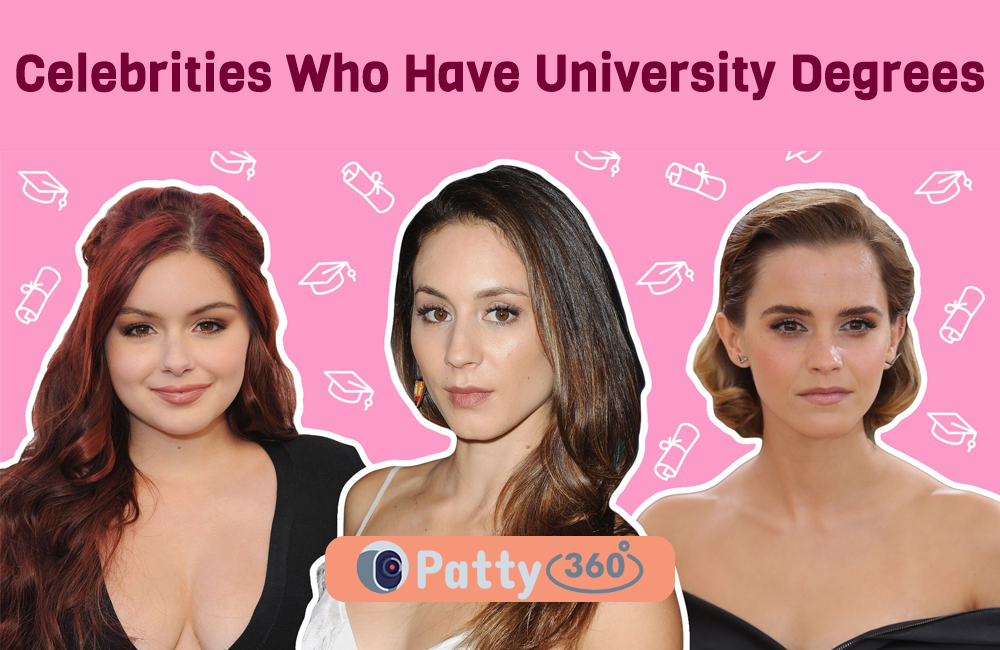 We often see celebrities walk the red carpet, attend glamorous parties, and live luxurious lifestyles, but what we don't always know is that many of them have impressive university degrees.
These celebrities have worked hard for their education, despite their busy schedules and demanding careers, which proves that it is important even for those who seemingly have everything.
In this post, we will be diving beyond the red carpet and exploring the educational backgrounds of well-known personas.
Natalie Portman: Harvard University
Natalie Portman is a name that is synonymous with Hollywood glamor, but did you know that she also has an impressive academic background? The actress, who is known for her roles in films such as "Black Swan" and "V for Vendetta", attended Harvard University and graduated with a bachelor's degree in psychology.
Portman's love for learning is evident in her academic achievements. She was a straight-A student in high school and was accepted into Harvard at the young age of 18.
Portman has talked extensively about her time at Harvard, stating that it was a wonderful experience for her.
Overall, Natalie Portman is an inspiration to many, not just for her successful acting career but also for her academic achievements. Her dedication to her studies and her passion for learning are qualities that we can all aspire to.
Emma Watson: Brown University
It might come as a surprise to many of her fans, but Emma Watson is not just a talented actress and UN Women Goodwill Ambassador. In fact, Emma Watson is a graduate of Brown University, one of the prestigious Ivy League institutions in the United States.
Watson enrolled in Brown in 2009 and took a gap year in 2011 to focus on her acting career. During her time at Brown, Watson studied English literature and psychology. She was known to be a diligent and dedicated student, earning high grades throughout her time over there.
Emma Watson's commitment to education and her dedication to both her acting career and studies make her a true inspiration to many young women around the world.
Rashida Jones: Harvard University
Rashida Jones is known not only for her acting roles in popular TV shows like "Parks and Recreation" and "The Office" but for her educational background as well. She graduated from Harvard University in 1997 with a degree in philosophy and religion.
Jones is not the only celebrity to have attended an Ivy League university, but her degree in philosophy and religion is quite unique. In interviews, she has cited her studies as having a significant impact on her personal growth and her ability to think critically.
Jones also took advantage of opportunities outside of the classroom during her time at Harvard, including writing for the Harvard Lampoon comedy magazine and participating in musical theater productions.
Her academic accomplishments serve as a reminder that pursuing a passion for the arts does not preclude one from obtaining a high-quality education. Rashida Jones is a multi-talented individual who has proven that success can come from both academic and creative endeavors.
Meryl Streep: Yale University
Meryl Streep is widely regarded as one of the greatest actresses of our time, famous for her versatile roles and impeccable acting skills. However, what many people may not know is that Streep also has an impressive academic background. She graduated from Yale University in 1975 with a bachelor of arts degree in drama.
During her time at Yale, Streep honed her acting skills and worked with some of the finest teachers in the industry. Her training at Yale prepared her for a long and successful career in acting, which has spanned over four decades and earned her numerous awards and accolades.
Streep's academic achievements are a testament to her dedication, hard work, and talent. She has proven that one can excel in both academics and the arts, and her success has inspired many young people to pursue their passions while also striving for excellence in their academic pursuits.
Ken Jeong: University of North Carolina at Chapel Hill
Ken Jeong, a stand-up comedian and actor who is widely known for his comedic roles in movies "The Hangover", "Crazy Rich Asians", and the TV show "Community", is also an accomplished academic. Jeong received his bachelor's degree in pre-med from Duke University and then went on to earn his medical degree from the University of North Carolina at Chapel Hill. He got his internal medicine residency at Ochsner Medical Center in New Orleans, Louisiana, and then completed a fellowship in infectious diseases at the University of California, Los Angeles.
Despite having a successful medical career, Jeong's passion for comedy ultimately led him to pursue a career in entertainment. He began performing stand-up comedy while still practicing medicine and eventually landed a role in the TV show "The Office". Jeong's career took off after his hilarious role as Mr. Chow in The Hangover franchise, and he has since become a household name in the entertainment industry.
Jeong's impressive academic background is a testament to his dedication and hard work, both in the medical field and in comedy. He has proven that you can pursue your passions while also achieving academic success, and he continues to inspire others to follow their dreams.
Choose the Right University for Yourself
If you are reading this, then there is a pretty good chance that you, yourself, are looking for a suitable university. Well, the list is certainly endless. But what you need to do is choose the right one. From sciences to arts, you will find dozens of institutes that promise to help you excel in your career. But you need to do your own homework on this.
Here are a few tips:
1. Ask the alumni
You can contact alumni of a certain university and ask them questions. They can honestly tell you about the experience of studying there.
2. Pay attention to safety
Unfortunately, safety is one of the last things future university students consider, which is absolutely wrong. It should be on the top of the list, because the last thing you want is to feel unsafe at an educational institution. Nuwber has determined the safest college campuses in the US by state, and this information is beneficial for all applicants.
3. Choose the right major
Pay attention to what you really like, whether it's medicine, literature, astronomy, or chemistry. One of the most common mistakes is choosing the most popular majors most people opt for. But in the end, it would be sad to realize that you have wasted your time on something you have no passion for.
4. Consider Location
You're lucky if the university you want to enroll in is in your city or at least state. But if it's too far away from home, you might have doubts, which is natural. If you want to be closer to home, choose the university that is situated in your city or state. If the location doesn't matter to you, then choosing a uni in another state or even country wouldn't be a problem.
Conclusion
It's important to remember that while these famous people's status can sometimes come with a certain level of privilege, many of these individuals worked hard to achieve their educational goals. Their degrees are a testament to their dedication and intelligence, and it's inspiring to see successful celebrities who value education. If you want to be just like them, then choose the right university. Just consider your needs first.