Gaddafi was a "Whisker Away" from Buying Manchester United!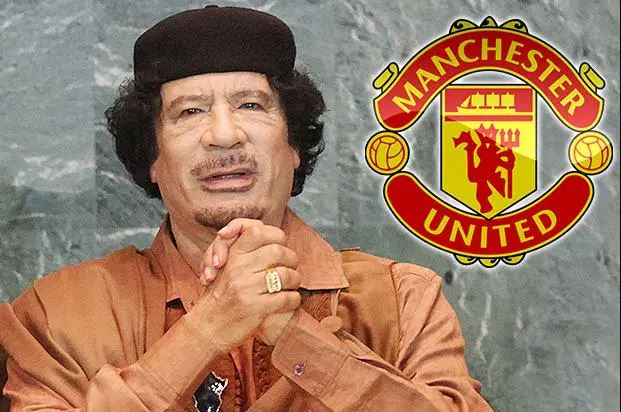 The Glazers are far from the most popular family in Manchester but their desire to buy the club in 2005 was at least understandable but certainly wasn't unique. The club has long been one of the most sought after pieces of footballing real estate and attracted interest from a range of businessman.
Perhaps the most interesting being Colonel "Mad Dog" Gaddafi, the former dictator of Libya. According to a Sunday Time interview with Mehmet Dalman, when Manchester United's ownership was in the balance in 2005, a late bid came from a surprising potential owner. "People don't realize how the deal was a whisker away from going to Libya. Gaddafi almost bought the club. That's how close it got – literally you're talking about a few hours.
The chance to own Man United is thought to have come about thanks to a feud between Sir Alex Ferguson and the club's majority shareholders – J.P. McManus and John Magnier over the stud rights of a racehorse – the Rock of Gibraltar. The conflict ended up in court souring their relationship. So whoever controlled Magnier and McManus' shares controlled the club. At the time Mehmet Dalman was running the investment arm of Germany's Commerzbank. He had purchased 2.5% of United shares on a whim before being asked by J.P. McManus and John Magnier to sell their near 30% shareholding.
Libya's colorful dictator emerged as a leading bidder. The thought of one of the world's most notorious dictators buying Manchester United might sound fanciful but at the time Gaddafi was being brought back into the international fold after renouncing his pursuit of weapons of mass destruction. The year before in 2004 then British
Prime Minister, Tony Blair visited lIbya and historically shook Gaddafi hand. Still unlike many dictators Gaddafi hated at the game of football.
He famously gave a two-hour speech before the start of the 1982 Africa Cup of Nations which was being hosted by Libya. Finishing off the speech with "all you stupid spectators, have your stupid game" He was deeply jealous of the devotion and affection that football could bestow onto other people and even banned names on the back of football shirts. Except for one player's name, his son Saadi.
The real reason Gaddafi wanted to buy Man United was because of the potential political power of football. A deal was being discussed for £100's of millions although completing the deal had become more difficult in the aftermath of Roman Abramovich's takeover of Chelsea. Mehmet Dalman flew to Tripoli to meet Gaddafi's senior entourage and then the leader himself. Hours of tough negotiations followed with Gaddafi pushing hard but they could not reach a deal.
Instead it was the Glazers who clinched Magnier and J.P. McManus's stake for a whopping £130 million. Malcolm Glazer went about acquiring 98% of the club's shares, forcing the rest to be sold and the rest is history.