Games Like ROBLOX | Free Roblox Alternatives In 2022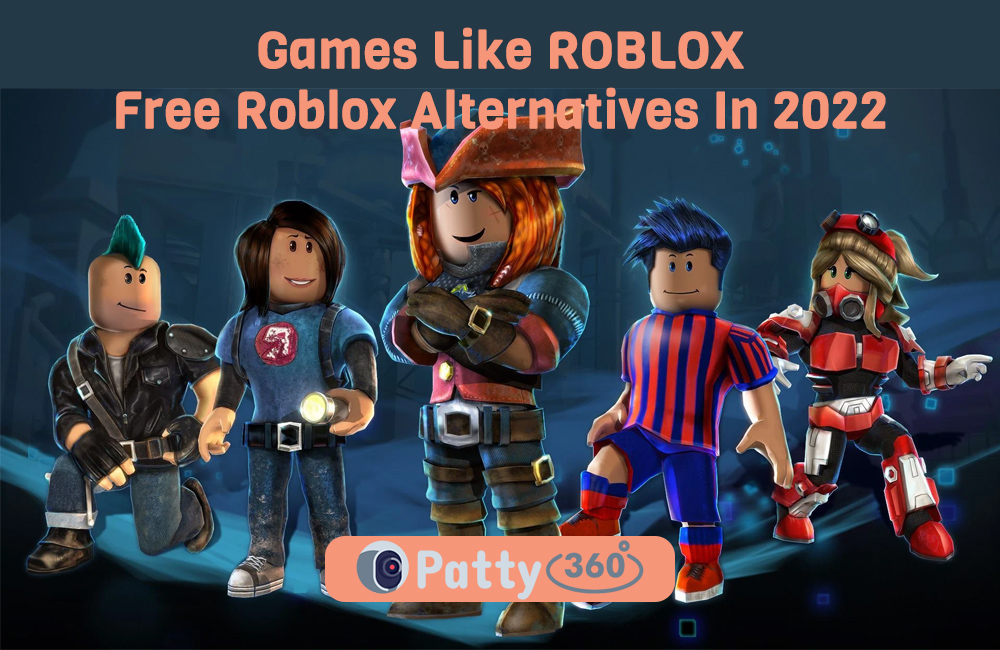 When you think of a modern and emerging gaming platform, nothing beats Roblox. The platform is fast expanding, meaning that you get to enjoy your favorite games from local game developers. Roblox was probably the first platform that streamlined the concept of a game creation system.
Ever since the release of Roblox, the platform has provided a platform for many aspiring game developers to share their creativity with the world. What's amazing about this platform is its accessibility, especially for budding gaming enthusiasts.
This article will explore everything you potentially need to know about Roblox and the free Roblox alternatives you can try in 2022.
Why is Roblox so Famous?
Besides the fact that Roblox provides direct access to a variety of games, what's unique about this platform is the accessibility.
It is an independent platform that allows users to develop their games and provide them with a streamlined gaming experience.
Over the years, Roblox has shaped up as a platform where budding gaming developers find a reputable platform to share their talent across. Not just that, but the website is technically free to use. It's only when you want to buy paid games or buy resources inside the games that you'd need to think about paying.
List of Best Games Like Roblox
Now, despite the popularity, many gamers are often on the lookout for alternatives to Roblox. These include fun ones but a few of them that stand out are similar platforms that provide users with a more elevated gaming experience.
If you are looking for similar gaming platforms or games like Roblox in 2022, the following are some of the best picks:
1. Minecraft
Minecraft is a leading online multiplayer game that you just can't get enough of. What makes this game a lot similar to Roblox is its playability. The world-building sandbox game is fun and hands down one of the most reputable names in the gaming community.
Despite the graphics being of subpar quality, the gameplay and overall fun features and adventure in Minecraft make it an option worth exploring. You get to build and explore caves, forests, water bodies and so much more right inside the game.
2. Lego Worlds
A lot similar to Minecraft, Lego Worlds is another multiplayer online game that deserves a mention in the list. Like Roblox, even this game provides you access to different building blocks that you can use to maximize your chances of a big win inside the game. 
As you progress into the game, you get to collect different types of objects scattered around on the map and exchange them for studs, which is similar to Robux or the in-game currency that's available on Roblox. Also, it is quite a fun and interactive game, something that you'd be appreciative of in the long run.
3. KoGaMa
If you are looking for a game pretty similar to Roblox, KoGaMa deserves a special mention in the list. It is a 3D browser-based game that's highly addictive and equally fun to indulge in. Like Roblox and Minecraft, even this one is a multiplayer game, which means that you get to enjoy it with your friends.
Depending on your needs and preference, you get to create your world in the game and explore it in real time. The great thing about KoGaMa that makes it a lot similar to Roblox is the accessibility to a variety of different categories of games, including strategy, arcade, action, etc. As a player, you get to pick and choose the one that you think would best suffice your game cravings.
4. Terraria
Quite an underrated gaming platform but Terraria deserves a special mention in the list. It brings you a combination of fun and creativity – all packed into one. The varying and diverse worlds in the game are fun to explore around, especially with easy access to armor, weapons, and shelter.
If you are personally a big fan of pixelated 2D-based gameplay, Terraria is a platform we'd highly recommend you look into. The adventure and scavenging bits in the game are quite fun, not to say extremely engaging too. However, each biome in the game comes with a lot of challenges and obstacles, especially when you are trying to scavenge through the biomes.
Players have access to guns, weapons, and armor, which are all targeted toward defeating the evil bosses that plague the game. Also, the game is quite huge, so that's another factor you'd have to pay some close attention to.
5. Terasology
A lot similar to Terraria, Terasology is another popular 2D open-sourced gaming platform, a lot similar to Roblox. You will find a lot of similarities with Minecraft, especially when it comes to the gameplay and the adventures you are thrust to cross through in the game.
As you come across the villains and the enemies in the game, your task is to fight each one of them off to level up in the game. Also, players have to complete their adventures, making the entire process a lot more fun and exhilarating too.
To make the whole experience even more fun, the game also offers a lot of customization, something that mimics the gameplay that you get to experience in Minecraft. 
6. Boundless
It isn't every day that you come across a simple, minimalistic, and honest game on the internet. Boundless ticks off all those boxes and it has a pretty similar gameplay to Roblox, so you are winning in all aspects.
Unlike most of the other games, Boundless makes your face and battle against aliens. So, you get to play through different realms and worlds, much like you do in Roblox. Also, as you progress through the levels, you get to interact with different players, enabling you to score some good gifts along the way.
If you are considering switching from Roblox to something similar, Boundless is a pretty similar option we'd highly recommend you explore. Also, the overall immersive experience in the platform is pretty enticing too.
7. Brawl Stars
If you are expecting a game 100% similar to Roblox, Brawl Star might not be a favorable option. However, the good news is that it draws certain similarities that are worth considering. This is an online multiplayer game, much like a lot of the other options we have mentioned around here.
Also, you are potentially playing against AI or real-time players, and your objective is to unlock different rewards along the way. It could be something fun or something that can pick you along the way in the progress of the game.
But, since it is often a team-based game, it isn't surprising that you have to work with a lot of strategy along the way.
8. Trove
We are again back to a game that's not just similar to Roblox but draws similarities with Minecraft and Lego World too. It features voxel graphics, which are pixelated but of high quality. Players get access to varying gameplay modes, meaning that they get to amplify their gaming experience to the next level.
Like Roblox, if you want to make the most out of Trove, you have got to explore different worlds and realms in the game. Additionally, the game provides the players easy access to varying rewards, something that you'd often get at Roblox as well.
9. Creativerse
Coming up next on the list of similar games like Roblox, we have Creativerse. It is a game heavily inspired by Roblox and Minecraft and the same appears in the overall gameplay. The primary objective of the game is for the players to create a virtual world for themselves using blocks.
Since it is a multiplayer game, it isn't surprising that you get to invite your friends to enjoy the game more comprehensively. Also, it is a survival-based game, so you might have to skip around different realms and worlds in the game and explore them in the creator mode. 
10. Garry's Mod
Although quite different than what you'd expect the Roblox alternative to be, Garry's Mod is an option that deserves an honorary mention. Besides the gameplay and storyline, what's unique about this game is the stunning graphics. It's pleasing to the eyes and has a very premium touch to it.
Also, unlike most of the other alternative games we have mentioned, Garry's Mod doesn't have any specific objective. Your aim in the game is to free float and enjoy the game at your disposal. There aren't many restrictive things you'd have to worry about inside the game.
Since it is a multiplayer online game, you get to play with other players in real time or you get to invite your friends and play with them as well.
11. Minetest
If the name of the game wasn't a giveaway, Minetest draws a lot of its inspiration from both Roblox and Minecraft. It is a sandbox-building game, much like how you witness Minecraft. Even the layout and the overall gaming experience are pretty similar. 
The game consists of multiple gaming modes and you get to build different virtual realms inside the game to make the most out of it. You will also notice that the maps in the game consist of hundreds of blocks put together. 
As you progress through the game and complete different levels, you get to unlock new developments and upgrades that allow you to enhance your overall gameplay for the better.
12. Castle Miner Z
Next up on the list is another popular alternative to Roblox that deserves a special mention. Castle Miner Z is another popular sandbox game that features an environment very reminiscent of Roblox and Minecraft. The game is heavily inspired by the latter, including each level of the game that you explore.
It is a survival-based game, wherein you have to have access to weapons and even craft them along the way to ensure that you are not beaten in the game. When switched to creator mode, Castle Miner Z looks like a replica of Roblox, so if you are looking for something similar, we'd recommend you explore this option.
Also, it is not a free game, so that's something you'd have to keep in mind.
13. Growtopia
If you are hunting a game similar to Roblox, but in a 2D environment, Growtopia is the answer. It features creative and social gestures in the game, which are fun to explore. Also, users get to personally grow things in the game and then trade them for money.
You get to explore and travel into different realms in the game, making it even more fun and interactive. Also, if you are confused about the gameplay, we'd recommend exploring this in real-time, especially because of how fun things are. 
14. The Blockheads
Another underrated but fun Roblox alternative that's worth playing is The Blockheads. It is a survival sandbox game, so if you have played Minecraft and Roblox before, you should be good to progress with the game.
With the 2D surroundings, players get to explore the surroundings, varying realms, mine, craft and build in the world they are in. Since the game is backed by regular software updates, it isn't surprising that you can access different upgrades to the game as you go.
15. Cubic Castles
Last but not least is Cubic Castles. It is a 3D environment and realm-based game, wherein you are faced with interactive and intriguing challenges as you build one cube at a time inside the game. As you create and finish your world, you have the option to share the same with your friends and welcome them to your world.
Cubic Castles is an extremely charming game, something that won't make you miss playing Roblox. However, the creative freedom you get in this game is out of this world. It's fun and interactive and the task of creating your realm is quite amazing too.
Conclusion
With so many different games available on the internet, finding good alternative games to Roblox isn't rocket science. We hope this article gives you a list of some of the best ones that we think are worth the time and the efforts you put into them.