How Has Technology Changed Education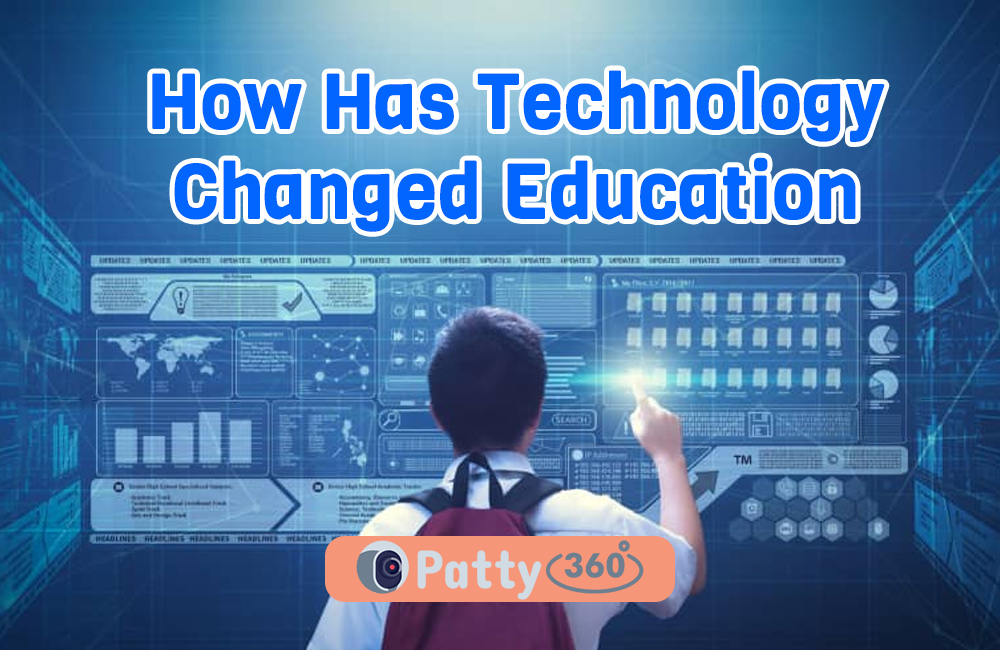 If you ask a random college student about the advantages of technology for the educational process, you will hear lots of meaningful ideas. In fact, with the introduction of technology, the studying process has become much easier, faster, and more efficient. The classes have become more flexible and inclusive, catering to the needs of every single student. Advanced communication, interaction and collaboration, better-studying opportunities, improved perspectives, and a range of other elements make technology implementation a beneficial experience.
However, before analyzing the positive impacts of technology on education, it is vital to specify certain risks and potential downsides.
Training needed. The rise of technology makes teachers expand their vision and learn the way to use, set and manage certain apps, programs, and services. It takes a lot of time and effort for some teachers to discover the specifications of the technology so that it can be used in an efficient and beneficial way.

High cost. Do you want to take maximum advantage of technology? Be ready to spend a considerable sum of money on the cost of internet services, computers, printers, and other devices inevitable for the desired success.

Distraction. Along with helpful educational platforms, the popularity of social media and entertainment services is growing, making the studying process easily distracted.

Attention to detail required. With the accessibility of information, it has become much more complicated for learners to detect relevant data and single out credible sources.
At this point, one should remember that even the best thing can have negative outcomes if misused. Thus, both students and teachers should find a way to thrive from the rapid integration of technology in the educational field and take maximum advantage of it.
In fact, the proper use of technology in education can be rewarding, as it makes studying not only simpler and more accessible but also more interesting and productive. Check out some of the most critical changes technology triggered in the field.
Better Accessibility
Research, data collection and analysis, brainstorming, and drawing reasonable conclusions are the steps students make every single time they are working on academic projects. While in the past the process could take days and weeks, with the implementation of technology, it can be reduced to a few hours. Students do not need to spend much of their free time in the library searching for information. Instead, they should make a few clicks on their device and detect a variety of credible data sources filled with up-to-date facts, statistics, and examples to be used. A computer and an internet connection are the only things necessary for the achievement of the desired success. No time, place, or other restrictions are there, which also makes students more flexible.
Additionally, students who have a hard time dealing with certain assignments have got an opportunity to get online assistance. Time-tested and appreciated custom essay writing services help learners with the most different types of academic projects. By browsing the https://speedypaper.com/ page or surfing similar platforms, you will realize the way technology aid students and help them remain successful no matter what.
Advanced Efficiency of the Teachers
The use of technology has influenced the productivity and efficiency of teachers, too. A lot of helpful programs and web-based services contributed to the methods teachers are using to present information and keep students interested. Ambitious instructors integrate technology into the classrooms advancing student participation, expanding their vision, enhancing efficiency, and maximizing the results of studying.
Automation
Studying is a complex process that consists of multiple aspects, with assessment being one of them. Although its prominence is frequently underestimated, growth and progress are impossible without it. A comprehensive analysis of the student's achievements and failures is the only way to select the most effective studying patterns.
With the advancement of technology and its active use in classrooms, assessment has become automated. It does not only save a lot of time for the teachers but also keeps students and their parents aware of the peculiarities of their studying.
Reduced Cost
Unfortunately, getting a degree is not cheap, so not everyone can afford studying at a reputable university. Additionally, one should not forget about extra expenses, like food, clothes, living, books, and others, which used to make studying unaffordable. However, with the introduction of technology, extraordinary options have become accessible to learners.
Surfing the web, you will come across an unlimited number of promising courses and online programs that can help students advance their skills, deepen their knowledge in certain fields, and gain valuable academic experience. Some platforms remain expensive, but a lot of them are available for free. Besides, there is no more necessity to purchase expensive study books and other materials for school, as you can download them all to your e-book or tablet, using any time and at any place.
More Efficient Communication and Collaboration
Communication is another factor that influences the studying process a lot. Interaction between teachers and students, students and their parents, and teachers and parents should be taken into account. Technology has made it much simpler to stay in touch, exchange valuable information, share experiences, work on complicated projects, and discuss important issues.