Impractical Jokers Cast: Before the Fame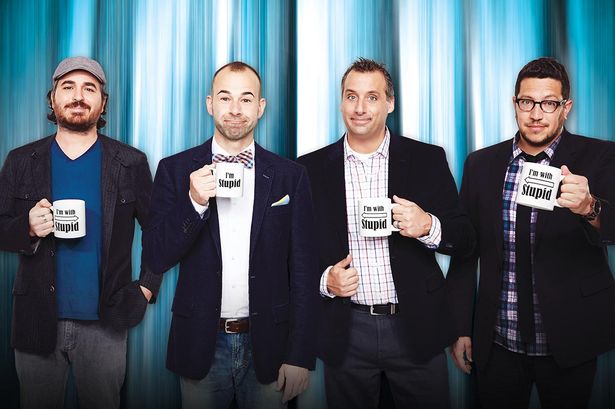 Q, Joe, Sal, and Murr you know them as the cast of the hilarious practical joke/improv show that airs on Tru TV "Impractical Jokers" and now starting in 2019 "The Misery Index". First airing in December of 2011, the "Impractical Jokers" have taken the US by storm and it isn't just the TV show, the "four life long friends" also go on tour semi-regularly captivating packed houses, on February 21st, 2020 fans will have one more avenue upon which to see the gang "The Impractical Jokers Movie" Yes, there is going to be a movie, will be coming to a theatre near you. When watching them on TV you certainly get a glimpse into the personalities and traits that make each individual tick (from Joe's dogs, to Q's Cats, Sal's Germophobia, and Murr's Yanni obsession), but who were these guys before they made it big? Below we will look into each cast member's past and prior employment history.
Joseph Gatto
Joe was born and grew up on Staten Island along with the rest of the "Impractical Jokers" attending Monsignor Farrell, an all boys Catholic school. After uningratiating himself (along with Q, Sal, and Murr) to the staff at Monsignor Farrell through a variety of notable pranks, Joe attended and graduated from LIU Post with a degree in accounting in 1998. According to his now defunct LinkedIn page, Joe went on to work for professional services company Accenture as a consultant from 1998 to 2002. After Accenture Joe went on to work for Giggle an NYC based children's retail store that is no longer in business. While at Giggle Joe worked as a personal shopper (now you know why he's so good at the mall pranks) before working as a training program manager for three years, up till the "Impractical Jokers" began airing in 2011. While working a 9 to 5, Joe was also an active member of the Tenderloins which is self described as a comedy troupe, currently comprised of the four members of the "Impractical Jokers" Joe, Q, Sal, and Murr. Beginning in 1999 as a live improv/ sketch comedy troupe, in the beginning, Joe along with Sal and Murr were a part of the Tenderloins along with a couple of different 4th members before Brian 'q' Quinn joined the team in 2006. The Tenderloins gained a lot of notoriety when they began posting funny videos/skits on the internet, namely YouTube. 
Brian Quinn
Brian Quinn AKA Q graduated along with the other guys from Monsignor Farrell in 1994. What he did after graduating in high school is shrouded in mystery (Q tends to be the most private of the group), Q has stated that his original goal was not to be a comic but rather a firefighter, a goal that he accomplished in 2005 when he became a member of the New York City fire department's (FDNY) ladder 86, located in Staten Island. Steely determination to his firefighting brethren made it difficult for Q to leave the department after 8 years. During the first season of "Impractical Jokers" Q worked double duty, as a firefighter and cast member, before exhaustion forced him to make a decision, the rest is history but Q has not forgotten about his comrades in the FDNY, he donated a $50,ooo check to his former station house in 2015.
Interesting enough Quinn was a hanger on of sorts for the Tenderloins, starting as a fan supporting his childhood friends before they offered him a chance to help write sketches, the rest as they say is history. Interestingly enough Q has gotten into the beer game, helping revive one of Staten Island's most iconic offerings – Rubsam & Horrmann lager, a staple of early 20th century blue collar New York, as a part of Staten Island's burgeoning brewery scene. 
James Murray
After graduating from high school, Murr attended the prestigious Georgetown University in Washington DC. graduating with a Bachelor of Arts in English in 1998. Along with being an original member of the Tenderloins, Murr worked as a television producer for many years including a stint as the Senior Vice President of NorthSouth Productions. In addition to his role on "Impractical Jokers" and as a member of the Tenderloins, Murr has also dabbled with writing, having written Awakened a sci-fi, supernatural thriller and The Brink a sequel to Awakened, You can find more information including purchase options on Murr's Amazon page. It has been reported that Murr is a huge sports fan, preferring baseball and professional wrestling. Murr attended the infamous subway series in 2000 between the New York Yankees and New York Mets, and a live WWF match in which wrestler Bobby "the brain" Henan fought and was defeated by "Hulk" Hogan. 
Sal Vulcano
Sal was born in Staten Island in November of 1976… of Cuban, Puerto Rican, and Italian ancestry Sal is the most ethnically diverse member of the show. While attending Monsignor Farrell Sal was a member of several athletic teams playing hockey, basketball, and football at various points. Sal attended St. John's University in Queens, receiving a degree in finance. During his time at St. John's Sal starred in a video series titled "SuperDude and Friend" the original video can be found here. Sal held a variety of jobs while also being an original member of the Tenderloins, he has worked as a pizza delivery guy, a bartender, and as a stand up comedian (which he has said is his true passion) something that he continues to do to this day. 
Despite going their separate ways after high school, Q, Sal, Murr, and Joe reunited at first with the Tenderloins, before eventually moving forward to start "Impractical Jokers" which is now in its 9th season, what the future holds we do not know, however you can be assured that the four friends will be together doing something creative.