The Net Worth Of Manny Khoshbin 2023 – Is He A Billionaire?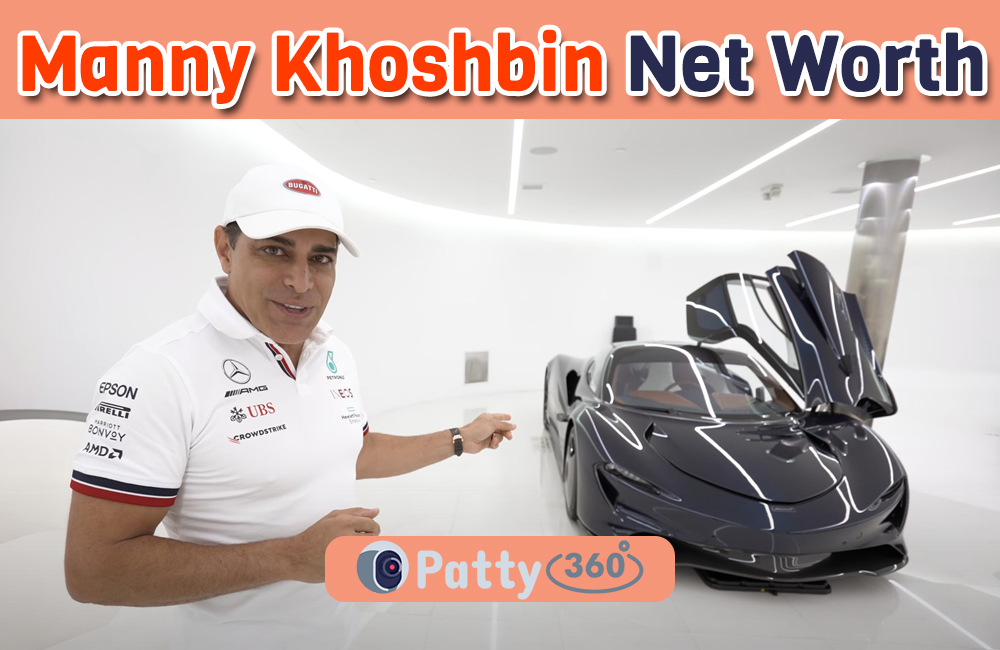 Manny Khoshbin – an Iranian entrepreneur, investor, YouTuber, and author – has made a mark in the world of real estate and high-end car collections. His net worth is thought to be between $80 million and $200 million as per 2023, though different sources provide varying data. However, no matter what people say, he is not a billionaire.
The road to success for Manny started when he and his family immigrated to the United States. After a few jobs in the way, he eventually discovered his talent and passion in real estate, which ultimately became his main source of income. He is currently the President and CEO of his own real estate enterprise – a big factor to his wealth today.
Furthermore, Manny has become popular on social media mostly through YouTube where he showcases his love for luxury cars and offers a peek into his extravagant lifestyle. His car collection reflects his preference for the finer things in life which explains why it has attracted attention from auto buffs all over the world.
Still, Manny's story isn't just about money or material things; he is an author too who has divulged his experiences through his book "Driven" – unveiling how he achieved success. This is an inspiring example of endurance and hard work; it goes to show that anyone can realize their ambitions if they put their mind to it.
The Multiple Sources Of Income Fueling Manny Khoshbin's Success
At the core of his wealth is Khoshbin's real estate endeavors. He formed the Khoshbin Company, which specializes in many aspects of the property industry like acquisition, development, and managing commercial properties. Having acquired and overseen millions of sq ft of prime commercial real estate through the years, he has made millions in revenue and significantly contributed to his net worth. 
Social Media and Video Platforms
His love for luxury cars caught the eyes of car fans all over the world. Subsequently, he created a YouTube channel to show off his collection and give a sneak peek into his life. With over 1 million subscribers, his YouTube channel has become a source of income through ad revenue, sponsorships, and brand collaborations. 
Author and Public Speaker
Additionally, Khoshbin makes money from writing books and speaking engagements. His book "Driven" documents his journey from rags to riches as an entrepreneur with tips on how one can realize their dreams – with its sales plus public speaking gigs netting him more revenue streams. 
Khoshbin is not just a businessman but also an investor with portfolios in stocks, bonds, and other assets that bring him passive income – though details about his investment portfolio remain private. His financial prowess has played a part in augmenting his finances in no small way.  
Collaborations/Partnerships 
The success he has achieved has attracted high-profile brands and companies wanting to partner with him – such as the luxury watchmaker Jacob & Co., resulting in the making of a limited-edition timepiece called "Epic X Chrono Manny Khoshbin". Such collaborations not only raise his image but also raise his bottom line!
FAQs
1. Who is Manny Khoshbin and what is his net worth?
Manny Khoshbin is a famous entrepreneur and also a real estate investor, as per the reports. There isn't much news about the diverse range of income sources that he has created for himself. However, reports suggest that he has an estimated net worth of around $200 million, the majority of which comes from his real estate income.
2. Is Manny Khoshbin a billionaire?
Manny Khoshbin is not a billionaire, at least, not yet. However, he is a millionaire and a successful entrepreneur, who is doing nothing but expanding his income pretty extensively. Besides real estate, he has also made a decent income from book sales, YouTube, and multiple coaching and mentoring programs.
3. How much does Manny Khoshbin earn a year?
According to the latest reports, Manny earns around $500,000 per month on average. His annual income is around $8 million, which is nothing but astonishing when you come to think of it. He has created diverse sources of income for himself, which expands his net worth.
4. How much is Manny's car collection worth?
With the success he has acquired, Manny has bought several luxury and high-end cars, all of which have an accumulated worth of around $20 million.