R Download Shortcut 2023 For iPhone [iOS 14, iOS 15 & iOS 16]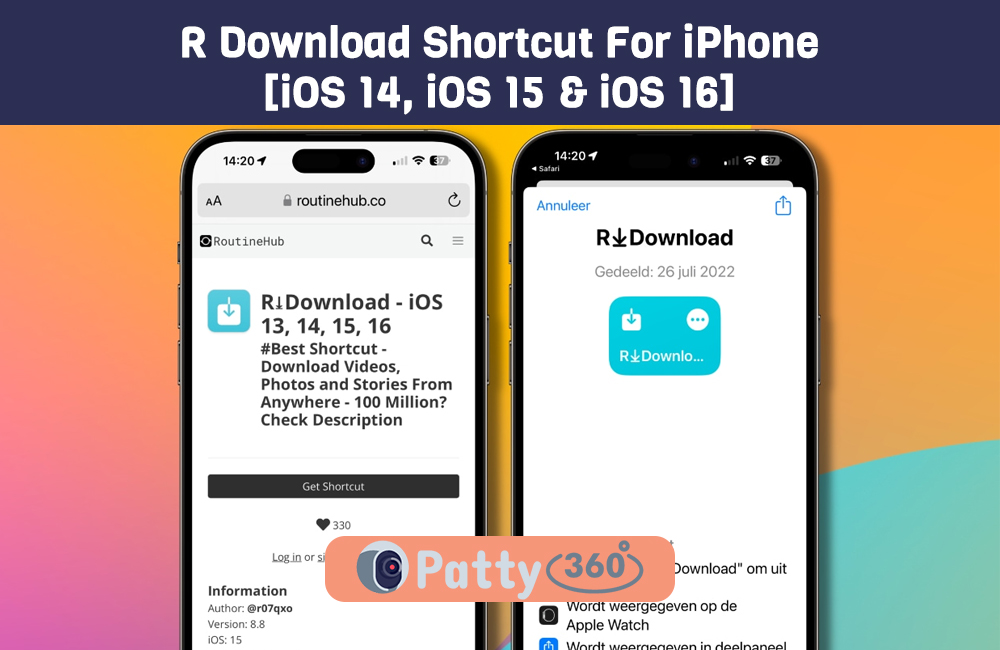 R Download is in high demand among iPhone users as it allows them to download and save content from social media platforms.
Every day you come across tons of videos and reels on social media sites like Facebook, Twitter, and Instagram. There are times when you like a video so much that you want to save it on your device. But unfortunately, none of those sites offer the download option. This is where the need for R Download rises.
With R Download you can easily save your favorite videos on your device and watch them later. Even if the owner removes the original video, you will still have the downloaded one on your device.
To know more about this shortcut and how to install it on your iPhone, you should read the post below.
R Download Overview
R Download 2023 is an iPhone shortcut that allows users to download videos from various social media sites. It is capable of downloading media from sites like TikTok, Instagram, Facebook, YouTube, WhatsApp, Twitter, and others.
It is a simple and user-friendly shortcut. After the shortcut is added to your iPhone home screen, you can use it to download unlimited content. The download video quality is great so you can use it without any worries.
Key Features of R Download
Before installing the shortcut, let us give you a brief idea of the features. Knowing the key features will help you make the most of the shortcut.
Generally, free download apps are packed with advertisements which can be annoying for users. But with R Download, you don't have to deal with any such thing. It is free of ads and convenient to use. The no-ads policy also makes it safer and more trustworthy.
The user interface is pretty simple and easy to use. Unlike other download applications, R Downloads has no complications. Even the menus are easy to understand.
It is kind of surprising, but an amazing app like R Download is completely free to use. It can be used to download unlimited videos and photos from various social media sites. Whether you are using it for the first time or the tenth time, you don't need to pay a single penny.
Download and Install R Download on iPhone
Coming to the main topic, you can use R Download on iOS 14, iOS 15 & iOS 16. But unfortunately, the application is not yet available on Apple App Store. As a result, you will have to use third-party download services to get the app on your device.
R Download is a handy shortcut for users who likes to download reels, videos, or photos from social media sites. It is a free application for all iPhone users.
To download and install the app on your phone, you must follow the steps given below.
The first thing you need to do is download the R Download file from a third-party online source.

Then tap the Download Shortcut button and wait for the process to complete.

After that tap the Set Up Shortcut button.

To proceed ahead, select Skip Setup. Now, wait for the installation process to complete.

Once the app is installed, you are ready to use it.
So you can see how easy the installation steps are. Just follow these steps and you will get the application on your iPhone. Make sure that you are using the latest version.
How to use the R Download shortcut?
Now that you know how to install the app on your iPhone, it's time to learn to use it. Since many of you are using the application for the first time, you might get confused with the steps. This is why we have elaborated on everything in the lines below.
First, launch the app from where you want to download videos or photos.

Let's say, you want to download a post from Instagram. Tap on the three-dot icon on the post.

Select the Share option and then tap the R Download button.

Hit the Allow button if R Download asks for permission.

It will start downloading the media.

Once the download gets over, it will get saved in your iPhone gallery.

You can now watch the video/photo offline or even share it on other platforms. However, we wouldn't suggest you share someone else's photos or videos without their permission.
With the help of the R Download app, you can download media content from various sites. It not only works with Facebook, Instagram, and Twitter but it is also supported by TikTok and YouTube. It is an amazing app that everyone can use for free.
Steps To Update R Download Shortcut
Even the steps to upgrading R Download Shortcut are pretty straightforward. To get the latest version of the app, you should follow these steps.
Launch a web browser and go to the website where you downloaded R Download from.

Tap the Download Shortcut option.

Next, select the Set Shortcut option.

Hit the Skip Setup option. After this, the shortcut will get installed.

Now you can use the Replace button.

Once the latest version gets installed, you can start using the app.
Is R Download safe to use?
A lot of you have been asking whether the R Download shortcut is safe or not. So we thought of answering this once and for all.
So far, there have been no reports against R Download. Apple iPhone users are quite satisfied with the performance and features of the app. This indicates that the app is safe to use.
However, you can download the app only after configuring the right settings in the menu. Unless you allow R Download to access media content, you won't be able to use the shortcut.
R Download can be used with a large number of websites and programs. This is what makes it more popular among users. By using this app, you can download videos and photos for free. It is supported by all the major social media sites like Facebook, Twitter, TikTok, YouTube, and Instagram. You can also use it with Likee.
Just so you know R Download is a third-party application. As of now, it is not added to Apple App Store. This is why you have to take the long route to installation.
It is currently one of the most trending apps among iPhone users. Since no one has complained about the app, it feels safe to use. In case, anything goes wrong, it's your device that will take the impact. So unless you need the app, it's better to avoid it.
Pros
It is free to use.

It can download media content from multiple sites.

It is easy to use.

It is ad-free.
Cons
It is not available on Apple App Store.

It might be risky.
FAQs
1. Is it possible to download the R Siri shortcut for free?
Given the kind of popularity that the R Siri Shortcut has gained, it isn't surprising that most users are curious to know about its availability for free. You can find some on the internet.
2. Is it legal to use the R download shortcut on iPhone?
If you are wondering if using the platform will interfere with any of the terms and conditions of the iPhone or other iOS devices, the answer is no. It doesn't contravene with any, so you are good to go.
3. Is the R download shortcut compatible with all iOS versions?
Again, this depends on where you are downloading the shortcut from. If you are using it from a comprehensive website that provides access to all the relevant features, you should be good to go.
4. Can I install the R Download shortcut on Android?
This is a feature that is currently exclusive to Apple products, including iPhone, iPad, Mac, etc. It can't be downloaded on Android.
Final Thoughts
R Download is a popular download application for iPhone users. It is capable of downloading media content from all the top social media platforms. It is a free app that can be downloaded via a third-party source. We have already explained the steps in the post above. All you have to do is follow the instructions and you will be good to go.