5 Rich Child YouTubers to Watch in 2021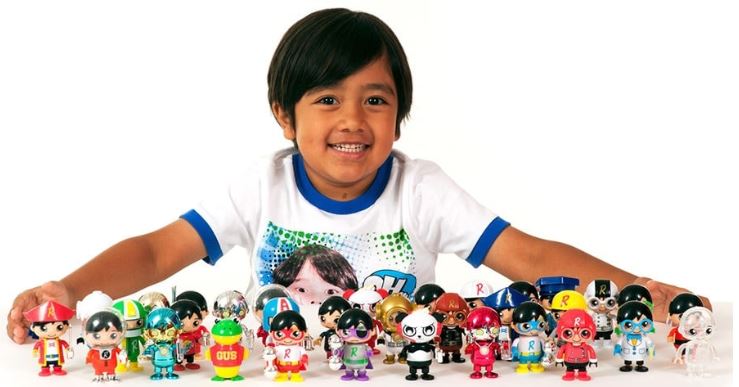 We all have seen how YouTube is dominating online entertainment, now it seems like the kids are taking over the place. From comedy to gaming, toys to talents, these young kids are earning millions of dollars from their YouTube channels each year!
Ryan's World
When it comes to insanely rich and popular YouTubers, 8-year-old Ryan Kaji has to be one of the OG's. What started as a fun toy unboxing and review channel named RyanToysReviews back in 2015 has exploded in popularity to the mega-channel today known as Ryan's World. The now 9-year-old has enjoyed some absolutely mind-boggling success during his YouTube career.
His two most popular videos have been watched an insane 2 billion and 1 billion times each! The channel reportedly made $22 million dollars over a one-year period in 2018, and is earning an eye-watering $37 to $92 million dollars annually. That's about a dollar a second for little Ryan. He currently has a mind bending 26.3 million subscribers, and because of this big companies such as Colgate, Nickelodeon, and Walmart are expanding Ryan's World beyond YouTube, to create toothbrushes, toys, and even a television show. This 8-year-old multi-millionaire has an insane net worth of $120 million and has been able to retire comfortably long before he even lost his first tooth!
Evan Lee
EvanTube is a father and son channel, featuring toy reviews, challenges and all kinds of other content. The channel currently stands at over 6.5 million subscribers and has evolved as Evan's grown along the years. His father's interest in film making helped the channel take off as it did, resulting in Evan being able to rake in $4,000 per day for the past couple of years which results in roughly $1.5 million a year.
The EvanTubeHD channel is reportedly worth $12 million on its own, however his success doesn't stop there. Evan also created his own gaming channel, EvanTubeGaming. It seems more than just a side project as it's also accumulated a mind blowing 1.75 million subscribers with multiple videos surpassing over 10 million views each. It seems like this family will continue to have a presence on YouTube for some time to
come, and it's not hard to see why.
Sis VS Bro
Who would have imagined that sibling rivalry could be so profitable? Sis VS Bro is a kids entertainment channel in which 13-year-old Canadian sister Karina and 11-year-old brother Ronald Kurzawa compete in challenges, DIYs and skits. They both have their own respective gaming channels but Sis VS Bro is the real money-maker. The channel has been around ever since 2016 and has amassed a huge following of 13.5 million subscribers.
Their top two videos both have over 100 million views respectively and their yearly income is reportedly in the ballpark between $3.5 to $8.5 million. They may compete against each other in many of their videos but these siblings sure are working together to earn that cash with an estimated net worth of $20 million!
Their gaming channels are nothing to be scoffed at either, with Karina's channel GamerGirl having over 4.5 million subscribers and Ronald's channel RonaldOMG having a respectable 3.6 million subscribers. I'm guessing Mom and Dad don't have to work anymore now, unless you count filming Gummy challenges as a job!
Like Nastya
Like Nastya follows the life of Russian-American 6-year-old Nastya through vlogs and other creative activity videos.
With close to a staggering 60 million subscribers on her main channel alone, her subscriber base blows out to 140 million when you consider the other 5 channels doing almost just as well.
She's racked up over 70 billion views in total and with reports of her having deals with Legoland and other companies, Nastya's created something of an empire at the tender age of just 6! She's making roughly $93 to $231 million a year which is more than YouTube juggernauts PewDiePie and MrBeast earnt from YouTube last year!
There's talk of her launching toys, games, and a book in the future – all before she turns 7. Talk about ambitious!
From its humble beginnings as a way for her parents to keep family members up to date, Like Nastya is currently number 10 on the list of most-subscribed channels on YouTube and as of July 2020, the most watched kids YouTuber of all time.
Vlad and Nikita
​Russian-American kids on YouTube seem to be killing it lately and brothers Vlad and Nikita are no exception!
The boys and their mother post colourful, eclectic videos of comedy skits and stories on their channel named Vlad and Niki. Over 50 million people have decided to subscribe to their channel earning them an estimated
yearly income between $147 million to $368 million.
The channel itself has a massive net worth of over $500 million dollars as of August 2020. In 2019, the boys Vlad and Nikita signed a representation deal with Haven Global, a licensing agency based in Australia. The deal is worth an undisclosed amount in the millions and will license the company to develop new streams of content and other products.