Top 10 Richest Female Rappers in the World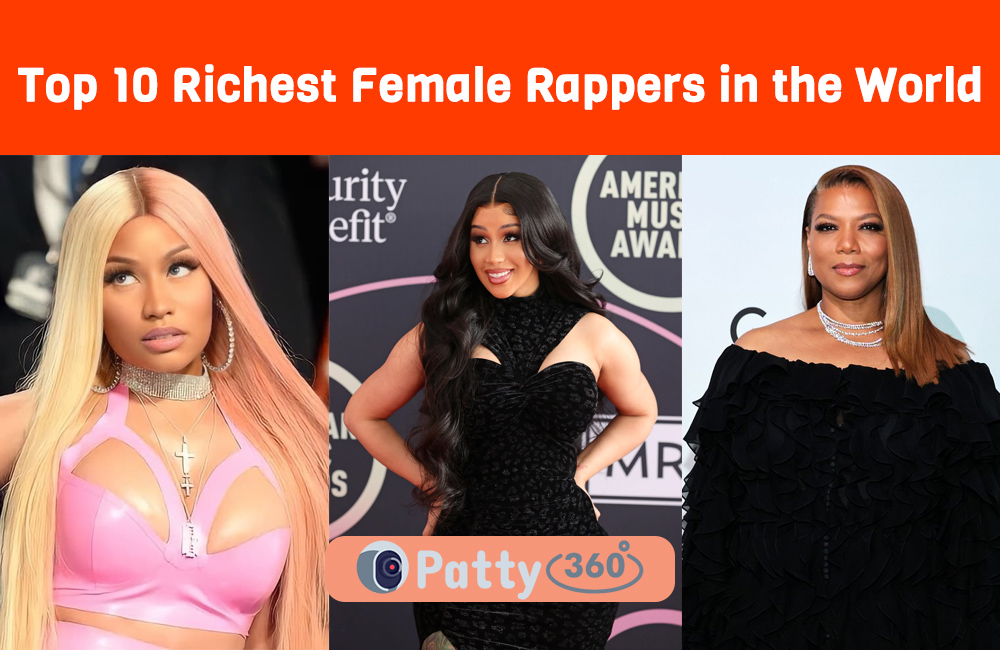 Rapping and hip-hop is a niche that is diversifying quite fast and female rappers are becoming a lot more mainstream than you think. No longer is this niche in music dominated by only male rappers. 
The best part of all this is the fact that the female rappers are early equally well, if not better. Over the years, there has been a shift in the hip-hop and rapping industry, so it's safe to say that you need to know who the richest female rappers in the world are at the moment.
This article will list out the top 10 richest female rappers in the world that you should be aware of.
1. Nicki Minaj
When talking about the richest female rapper in the world, no one can take the place of Nicki Minaj at this point. She has over 100 million worldwide record sales under her belt and is crowned as one of the bestselling music artists of all time. Besides her albums and music videos, Nicki has also been part of certain movies like Ice Age: Continental Drift and The Angry Birds Movie 2. She has an estimated net worth of $150 million.
2. Cardi B
Despite growing amidst a lot of challenges, Cardi B has managed to cement her place in the music and hip-hop industry with her $80 million net worth. She started her career on Vine and Instagram and also appeared on VH1's Love and Hip Hop: Atlanta, which brought her a set of dedicated fans. However, her music career took off with the release of Bodak Yellow and her album went straight to #1 on the Billboard 200.
3. Queen Latifah
Although quite underrated, Queen Latifah is a legendary female rapper with an estimated net worth of $70 million. She is more than just a rapper, because she has film credits, and has even conducted multiple comedy shows. Her rapping career took off in the late 90s with the release of U.N.I.T.Y and Ladies First. Her career peaked further when she performed at the Super Bowl halftime in 1997.
4. Bhad Bhabie
Most know her as the "Cash Me Outside" girl from Dr. Phil. However, Bhad Bhabie leveraged her initial virality and turned it into a full-fledged career in rapping, amassing a net worth of $52 million. You'd be surprised to know but she was the youngest female rapper to make it to the Billboard Hot 100 at the mere age of 17 in 2017 with her song These Heaux. Besides her rapping career, she has also worked with multiple makeup brands.
5. Missy Elliot
Despite a net worth of around $50 million, Missy Elliot isn't necessarily the most popular rapper right now. However, she has once crowned the Queen of Hip Hop during the peak of her career. She kickstarted her music career with an R&B Group, Sista, but they later disbanded and she started her solo career, releasing one of the biggest hits Supa Dupa Fly album. During that time, the album debuted at #3 and was the highest-charting album by a female rapper.
6. Bahamadia
Although Bahamadia has a net worth of $32 million, she isn't a very popular rapper. She kickstarted her musical journey as a DJ in Philadelphia. However, she later released her studio album in 1996 titled Kollage. Ever since it's initial popularity, Bahamadia has released multiple singles and other EPs, which made it to the top of the chart fairly quickly. Her voice is high in demand given how unique it is.
7. Iggy Azalea
If you are a millennial or even a Gen-Z individual, Iggy Azalea is a name that doesn't require any introduction. With an estimated net worth of $15 million, Iggy's entry into the hip-hop world brought a breath of fresh air. Besides the Beatles, Iggy is the only artist to have two songs ranked #1 and #2 on the Hot 100 Charts. Despite her soaring success, Iggy soon ran into a lot of complexities with her record label, which is where she decided to launch her label, Bad Dreams.
8. Sandra Denton
Another underrated female rapper that isn't widely known is Sandra Denton. If you heard any song from Salt and Pepa, Sandra was the Pepa in the group. The hip-hop band experienced pretty steep popularity in their career, releasing five successful albums together. However, following the group's break, Sandra went on to appear in multiple television reality shows along with sitcoms. She has also been part of multiple documentaries.
9. Cheryl James
Harboring close to $14 million in net worth, Cheryl James was the "Salt" from the Salt and Pepa group. Although she garnered a lot of fame and popularity during her time in the group, she didn't manage to gain the same level of popularity after the group split. She didn't appear in other projects, including reality shows like Sandra.
10. M.I.A
With a whopping net worth of $14 million, M.I.A is a lot different than the staple female rappers we talked about. She is a British female rapper and musician who has released music in multiple genres, including dance music, electronic, and hip-hop. Her music career wasn't always on the frontline. Instead, she started working as a visual artist and later worked as a filmmaker as well. It wasn't until 2002 that she released her first song. Some of her most popular singles, Sunshowers, and Galang have put her in the foreground, attracting a dedicated base of audience. She also rose to fame after being a featured artist on Travis Scott's song, Franchise.
Conclusion
And, that concludes the list of the highest-paid female rappers in the world as of now. If you were wondering or inquisitive about the net worth of the richest female rappers and hip-hop artists, we hope this article gives you all the insights you need. Keep in mind that these net worth estimations are dynamic and consistently changing. So, the list might vary later depending on the kind of earnings these artists garner in their careers.