Top 10 Richest Poker Players of 2023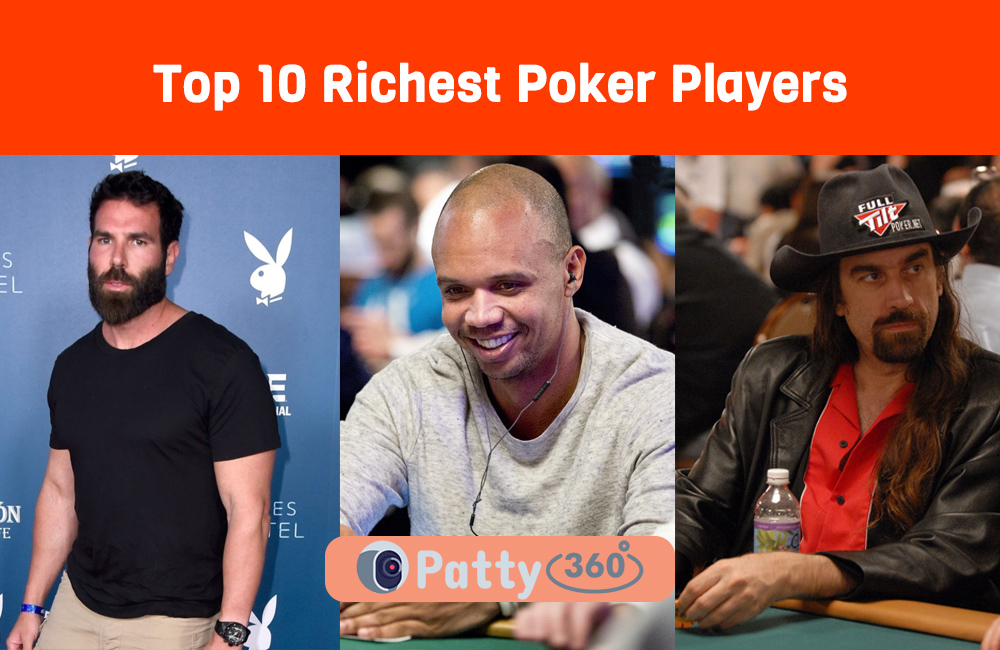 Poker is just for gamblers, right? Does it even make you win real money? Is it a legitimate game? These are some of the most common questions that people have when it comes to Poker. And, while playing Poker isn't everyone's cup of tea, we also need to realize that Poker is a legit game that earns you real money.
Many people have this misconception that winning from Poker is free money. But what you fail to see is the fact that winning money in Poker requires a lot of hard work.
This article will familiarize you with the top 10 richest poker players in 2023 that you potentially didn't know of.
1. Dan Bilzerian
Before you get shell-shocked, let us start with the fact that Dan Bilzerian has an estimated net worth of $200 million. But, most of his money comes from his trust fund and his largest live win in poker is estimated to be around $36,626. Known for his luxurious lifestyle, this "Instagram King" earns around $4 million each month, which is nothing short of shocking. At present, Poker is his only source of income, according to reports.
2. Phil Ivey
Amassing $100 million in net worth, another famous Poker player who deserves a special mention is Phil Ivey. He has won ten World Series of Poker (WSOP) bracelets and is crowned as one of the youngest members of the World's Poker Society. Despite his young age, he is considered one of the most skilled Poker players of all time. Phil's journey with Poker dates back to the 1990s when he practiced with his colleagues and later went to play professionally.
3. Chris Ferguson
Unlike Phil, Chris has won the WSOP bracelets 6 times until now and is jokingly named "Jesus" in the industry due to his long hair. If you hear of "Full Title Poker", he is one of the co-founders. According to reports, Ferguson has live earnings of $9,584,547 and his highest cash out was at $1.5 million. At present, Ferguson has a net worth of $80 million, which is pretty impressive, to say the least.
4. Sam Farha
Another popular professional Poker player that deserves a spot on the list is Sam Farha with an estimated net worth of $100 million. He has won three WSOP bracelets and is a self-made millionaire with his skills and talent, especially surrounding poker. According to reports, the biggest live win that Sam has was $488,241 in 2010. He is known for participating in the Omaha cash game skill and doesn't participate much in tournaments anymore.
5. Doyle Brunson
Don't get persuaded by his age, Doyle Brunson is one of the most popular Poker players of all time, amassing over $75 million in net worth. He has won the WSOP tournament twice and is still going strong, despite being 90+ years. He has been playing poker professionally for five decades and his highest live win was $ 6,176,737. Besides playing professionally over the years, Doyle has also participated in a series of popular tournaments globally.
6. Daniel Negreanu
Often nicknamed "Kid Poker", Daniel Negreanu is worth a mention in this list, especially with his $60 million net worth. He is a fan favorite and one of the most well-known poker players out there. He has won the WSOP tournament six times, which means he has six bracelets. He is also one of the only poker players who has received the Player of the Year award twice. Besides his tournaments, he also earns a steady income from brand sponsorships.
7. Bryn Kenney
If you push past the allegations and accusations, Bryn Kenney is undoubtedly one of the most popular poker players out there. His total live earnings stand at $57,221,861, which is pretty majestic. He has a net worth of $55 million and is known for pulling one of the biggest live cash wins in Poker with a sum of $20,563,324 in August 2019. However, Kenney has faced a lot of cheating allegations in his professional career, which he has brushed to the side each time.
8. Justin Bonomo
While we are on the topic of budding and often underrated Poker players, Justin Bonomo is a name that deserves a special spot. He has earned some of the biggest poker live cashouts, both in traditional and online poker tournaments. He has won the WSOP bracelets three times now. He currently has a net worth of $49 million after adding around $10 million after the 2018 WSOP win.
9. Tony G
Looking at Tony G won't make you believe that he is a millionaire but the truth is that he is one of the most popular and skilled Poker players of all time. This Lithuanian – Australian poker player is marked in the 92nd spot in the All-Time Money List with an estimated net worth of $36 million. Reports suggest that his total live earnings from Poker is $11,295,296 and the biggest cash out was $1,389,436, which he gained from the Triton Poker Series Madrid in 2022.
10. Antonio Esfandiari
Although it's pretty hard to spell out his name, Antonio Esfandiari deserves a pretty solid spot in the list with an estimated net worth of $27 million. He worked as a professional magician and later turned into a professional poker player. He has won three WSOP bracelets until now and has won the World Poker titles twice. His poker history is quite enticing and inspiring and many believe that his poker skills are an extrapolation of his magic skills. He has one of the biggest payouts of $18 million that he garnered at Big One for One Drop victory if you didn't know about that already.
Conclusion
If you thought Poker was just for fun, well now you have an idea. The game has professional tournaments under its name with cash out in millions. If you were entirely clueless about the richest Poker players of all time, we hope this article answers all your questions in detail and without any confusion.