Top 10 Richest 'Real Housewives' of All Time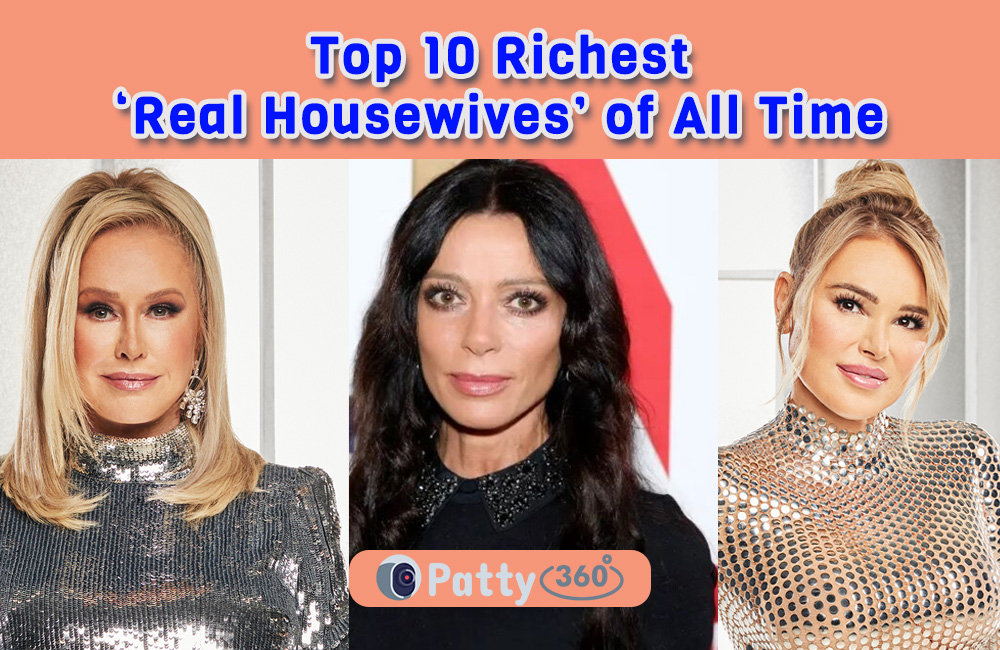 Reality television series and shows are people's guilty pleasures that not most people want to admit. When it comes to discussing the best reality shows in the history of television, Real Housewives does not await anyone's introduction.
Real Housewives has produced a total of 11 shows in the United States and 21 series outside the U.S. For those who aren't aware of the show and don't have an idea what the show is about, it follows the life of rich housewives who seek round-the-clock attention.
With that out of the way, if you are wondering the richest "Real Housewives" of all time, we have sorted out the top picks in this article.
1. Kathy Hilton
With a net worth of $350 million, Kathy Hilton is a name that doesn't require any introduction. She is the mother of a famous socialite, Paris Hilton. Kathy isn't a stable or a permanent part of the show but she has made multiple recurring appearances in The Real Housewives of Beverly Hills (RHOBH). Her career in the entertainment industry kicked off as a child actress, following which she became a businesswoman and started her gift store on QVC. 
2. Carlton Gebbia
If you are an avid viewer of the Real Housewives, Carlton Gebbia is a name you probably know about. She appeared in the fourth season of The Real Housewives of Beverly Hills (RHOBH), which is considered to be one of the worst seasons of the show, if not the worst. Gebbia, by the time she appeared on the show, was already working alongside multiple businesses with her ex-husband, so it wasn't like she appeared on the show for the money because she was already well off. Her estimated net worth at present is $100 million.
3. Diana Jenkins
Diana Jenkins is a pretty new name in the cast of Real Housewives since she joined the show in Season 12. If you are wondering about her career and profession, Jenkins is a famous businesswoman who works in multiple industries, including music, swimwear, and beverages too. With the twelfth season in full swing, the audience is getting to know her more. Also, personal information reveals that Jenkins is a survivor of the Bosnian war and she later fled to London.
4. Kyle Richards
With a whopping $100 million net worth, Kyle is another worthy mention on the list. She has appeared recurringly in the shop and is known for her shopping antiques. If you are wondering about her net worth, Kyle Richards is married to Mauricio Umansky, a famous and rich real estate broker. They are often termed the "Bravo IT couple". Besides appearing on Real Housewives, she has also appeared in several other movies, further establishing her acting career.
5. Lisa Vanderpump
When you think of Real Housewives, Lisa Vanderpump is a name that doesn't require any kind of introduction. She is part of the show's original cast, so chances are that you will find her recurring in the show from time to time. That aside, Lisa is also a famous restaurateur and has also appeared in two personal series called Vanderpump Dogs and Vanderpump Rules. Her career in acting kicked off when she was quite young, propelling her to earn a whopping $90 million in net worth.
6. Bethenny Frankel
Bethenny is another name that's part of the original cast of Real Housewives. Despite her presence in the show, Bethenny was a name that had a divided fanbase where some of the audience liked her and some didn't. Her outspoken nature, especially with her business-savvy speaking attitude was something that most of the audience resonated with. She previously owned Skinnygirl, which she later sold in 2011 for $110 million. She currently has a net worth of $80 million.
7. Camille Grammer
Camille appeared in the Real Housewives for the first two seasons and was placed as part of the primary cast. Although the audience was pretty impressed by her antiques and personality, she didn't stay long in the show. Besides the first two seasons, she made appearances in seasons three, eight, and nine later. She currently has a net worth of $50 million and has worked in the music and entertainment industry, including Playboy publications.
8. Dorit Kemsley
Although Dorit is known for her unique and questionable fashion choices, she is no doubt one of the most popular and richest Real Housewives. With 1.5 million Instagram followers and a pretty successful career, she has garnered $50 million in net worth. Her husband Paul is also a recurrent mention in the show. Her primary source of income is from the show along with other income sources like brand deals, business endeavors, etc.
9. Sutton Stracke
Sutton is quite a new inclusion in Real Housewives and made her first appearance in the show's tenth season. However, she soon managed to gain popularity, thanks to her amazing personality and business. She is also a professional ballet dancer, which adds to her uniqueness further. Also, not the most accurate but assumption that Sutton has an estimated net worth of $50 million.
10. Margaret Josephs
Bravo fans don't even require an introduction when it comes to Margaret Josephs. She is part of the Real Housewives New Jersey cast and is known for her lack of brain-to-mouth filter. She is not just outspoken but very sharp on the tongue. Her popularity on the show rose when she came out with her clothing label, Macbeth Collection by Margaret Josephs. Despite its formation in the 90s, the brand has consistently grown and evolved over the years. Margaret currently has a net worth of $50 million.
Conclusion
That concludes the list of all the richest Real Housewives that you potentially didn't (or maybe did) know of. Some of these individuals are new to the cast and a few are part of the OG real housewives cast.