Seargeoh Stallone: Is Sylvester Stallone's Son following his Father's Footsteps?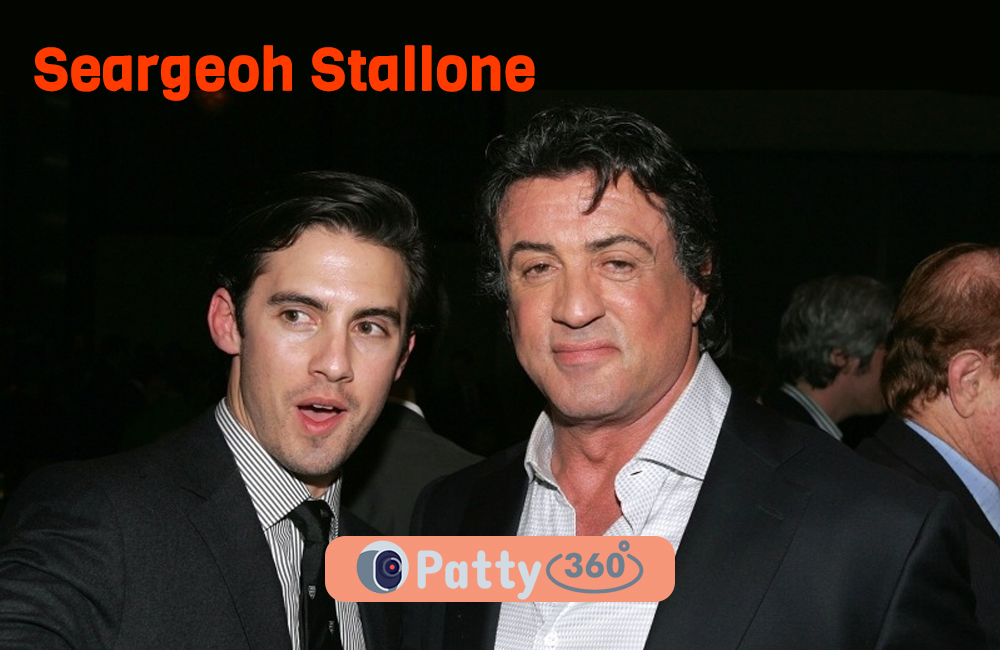 When you think of retro Hollywood days, Sylvester Stallone is a name that's recurrent and dominating. From his early characters of John Rambo and John Spartan to his newest breakthrough as Dwight 'The General' Manfredi in Tulsa King, Sylvester Stallone is a name that's going down in the history of Hollywood.
Besides his achievements, one thing that most of Sylvester's fans are curious about is his son, Seargeoh Stallone. Like most celebrities, even Sylvester's kids have grown up in the eye of the public and have been in the limelight due to their celebrity father.
Unlike his smooth professional career, Sylvester didn't have the smoothest personal life. Besides failed marriages, Sylvester was hit with the most devastating strategy when he lost his first-born son, Sage, in 2012 due to a fatal heart attack.
Now though, people's eyes have shifted to Seargeoh, who is another son of Sylvester Stallone. If you are in the same boat as being curious about Seargeoh Stallone, this article will walk you through all the details you need to know.
More about Seargeoh Stallone
Like his name, Seargeoh has had a very unique life growing up. Having Sylvester Stallone as his father was a reason enough for him to be thrusted into the limelight from his very formative years.
Seargeoh was born in 1979 to Sylvester Stallone and his first wife, Sasha Czack. Currently, in his 40s, Seargeoh has three step-sisters from his father's second marriage with Jennifer Flavin.
Unlike most of his siblings and step-siblings, Seargeoh didn't have the smoothest childhood and even adulthood. He was diagnosed with Autism in 1982 when he was just 3 years old. 
As Seargeoh was growing up, both his parents started noticing the difference when it came to both his communication and socialization skills with the people outside. Both Stallone and Sasha prioritized this matter and rushed their 3-year-old to the doctors, who later diagnosed him with Autism.
Both the parents have consistently worked with the National Society for Children and Adults with Autism and even set up a research fund there to help more people like their son and to ensure that the condition has a more concrete resolution and treatment.
Although both his parents consistently worked with him in therapy, Seargeoh still found it hard to overcome his stipulations. And, during his recovery was when Stallone and Sasha decided to call their relationship quits and filed for a divorce.
Later in 1985, Stallone went on to marry Brigitte Nielsen while Sasha became Seargeoh's full-time caregiver and took care of her son. Seargeoh was then enrolled in a school specializing in students with learning and developmental disabilities in Pasadena, California.
During an interview around that time, Sasha confessed that it became very difficult for her to singlehandedly take care of their autistic son. However, she also exclaimed that Stallone's job often kept him away and she understood the demands of his lifestyle and career. Later, both Stallone and Sasha decided to start homeschooling Seargeoh, which had a predominant impact on his development. 
Personal Life of Seargeoh Stallone
Following being homeschooled and living in a more secluded environment with the people loved, Seargeoh recovered pretty well and by the time he turned 10, he was able to respond to a lot of things that he couldn't before.
Although Seargeoh is the son of one of Hollywood's most coveted actors, both his parents have prioritized keeping his personal life out of the public eye.
Seargeoh has a very private life, which is only open to his immediate family and the people he trusted around him. So, if you are sitting there curious about his personal life, we hate to disappoint you that there isn't much information.
Unlike his father, Sylvester Stallone, Seargeoh isn't active on any social media platforms. He doesn't have any accounts on any of these platforms. He likes to keep things to himself and his family.
Career and Professional Establishments
Due to his struggles with Autism, Seargeoh didn't have a stable career graph like his father and even his elder brother, Sage. However, Seargeoh appeared in the sports drama film Rocky II, which was released in 1979.
He played a cameo in the movie, playing the character of Rocky Balboa Jr., the infant son of Rocky. But, that wasn't the end of his acting career.
Later in 1982, Seargeoh appeared on a magazine cover alongside his mother, father, and his brother. It was right after the publication of the magazine that Seargeoh was diagnosed with Autism, which shook both parents to the core.
As for his current establishment, it is believed that Seargeoh lives with his family in their La Quinta mansion. He lives with his mother but there is no confirmation surrounding the said report. Both Stallone and Sasha are adamant about letting Seargeoh live a life that he loves. Hence, they don't force him to do anything that isn't in his best interests.
Is Seargeoh Stallon in a Relationship?
Seargeoh, as we mentioned before, likes to live a very private and secluded life surrounded by his family. His personal life is kept out of the reach of the media, so there's no way to confirm whether or not he is in a relationship or dating someone at the moment.
With the kind of prejudices that comes with the diagnosis of Autism, it won't be surprising if Seargeoh wasn't dating anyone and instead likes to explore things that bring him joy and peace.
Reports suggest that Seargeoh is very close to his family, especially to his parents. Seargeoh, despite being surrounded by so many popular people and celebrities often likes to keep things to himself because that's what he and his family prefers for him.
Conclusion
If you are a huge fan of Sylvester Stallone and have been curious to know more about his son, Seargeoh Stallone, we hope this article gives you all the insights that you are likely looking for. Since he lives a very private life, there's not much information surrounding his personal life on the internet.