Simone Biles Net Worth in 2023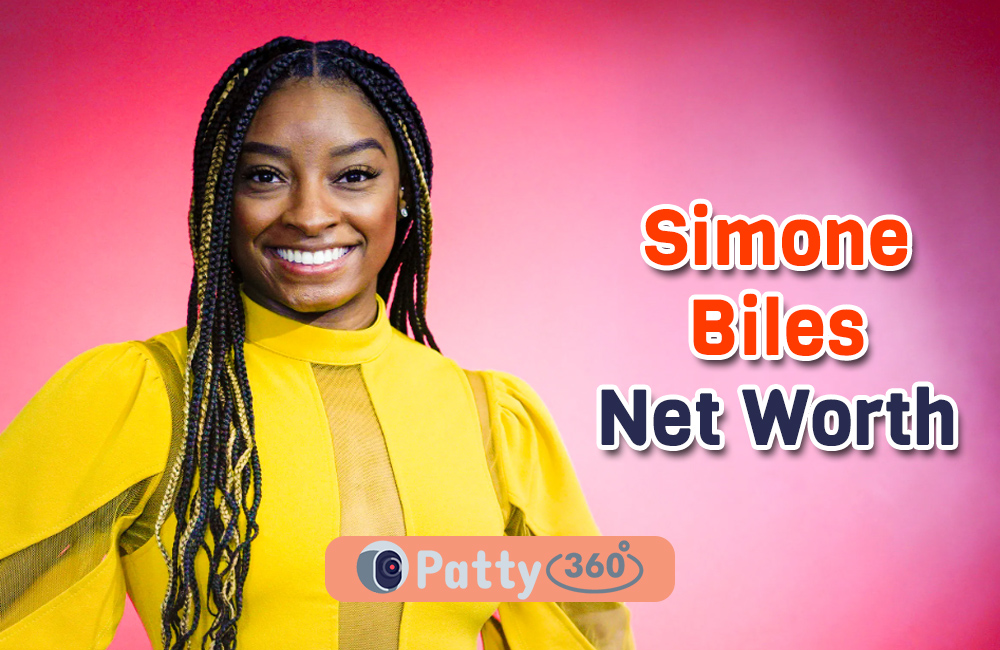 Simone Arianne Biles is one of the top American artistic gymnasts. She has won various tournaments and events throughout her career. Her current net worth is around $16 million.
Apart from cash prizes from tournaments and events, she is associated with several brands. She has signed deals with brands like United Airlines, Visa, Athleta, Uber Eats, Core Power fitness shake Candid teeth aligners, and many more.
Biles is also into real estate. In 2017, she listed her Texas home for sale. At present, she is building a new property with her fiancé Jonathan Owens. If you are eager to know more about the athlete, you should read the post below.
Family and Early Life
Simone Biles was born on 14th March 1997 to Kelvin Clemons and Shannon Biles. However, she was raised by her mother.
Simone has three siblings. According to the athlete, she had a tough childhood as her mother struggled with drug and alcohol addiction. Her father abandoned the family in the beginning. Due to all these reasons, Simone ended up in foster care. They were later adopted by her grandfather Ron Biles.
After the adoption, Simone's mother was not allowed to meet her children.
Personal Life
Simone Biles is engaged to Jonathan Owens. The two met each other for the first time during the 2019 Houston Texan's Game.
As per sources, they started dating in March 2020. A few months later, they made their relationship public on Instagram. After two years of courtship, Owens proposed to her in 2022. Biles said yes.
The two are happily engaged and planning to get married in 2023.
Achievements and Records
Simone Biles is one of the most celebrated gymnasts. So far in her career, she has won 32 medals. She participated in the Olympics for the first time in 2016. The same year, she became the first gymnast to win the most gold medals. Before that, she had won 14 world championships.
However, being successful had a toll on Simone's mental health. The gymnast has not participated in any tournament for a long time. She took a break from the sport after having a mental breakdown during the 2020 Tokyo Olympics. The pressure was too much to handle for her. As a result, she withdrew from the day's event.
Currently, Simone Biles is on a break to cater to her mental health. She is one of the first athletes to openly talk about mental health. According to her, one should prioritize their mental health before a tournament.
In 2018, she joined the #metoo movement and revealed how she was sexually abused by Dr. Larry Nassar.
Earnings and Wealth
Simone Biles has a net worth of $16 million. The majority of her wealth is generated from her gymnastics career. She has won numerous tournaments and received big cash prizes.
She has also invested in real estate, which helped her to grow her wealth further. She also has signed several brand deals and endorsements that pay her well.
FAQs
1. How much does Simone Biles get paid to speak?
Simone Biles is one of the most sought-after keynote speakers and an industry expert, which is one of the reasons why she is so high in demand. She speaks on multiple topics, including Olympic Sports, Diversity, etc. According to reports, Simone charges $200,000 for in-person events and the same for virtual events too.
2. What does Simone Biles do for a living?
Simone Biles is an artistic gymnast from America, who has won seven Olympic medals. Besides being a gymnast, Simone also works as a motivational and keynote speaker, inspiring people across the globe to chase after their passion.
3. How much money has Simone Biles made from the Olympics?
During her 2016 Olympic win, reports suggest that Simone made around $135,000 from the wins that she secured. Besides that, during the 2020 Olympics, Simone again secured around $37,500 for her wins. There isn't much information about the other wins.
4. How successful is Simone Biles?
Simone Biles is one of the most successful artistic gymnasts of her time. She is also diversifying her career and venturing into public speaking, which is paying off quite well for her as well, further diversifying her income.