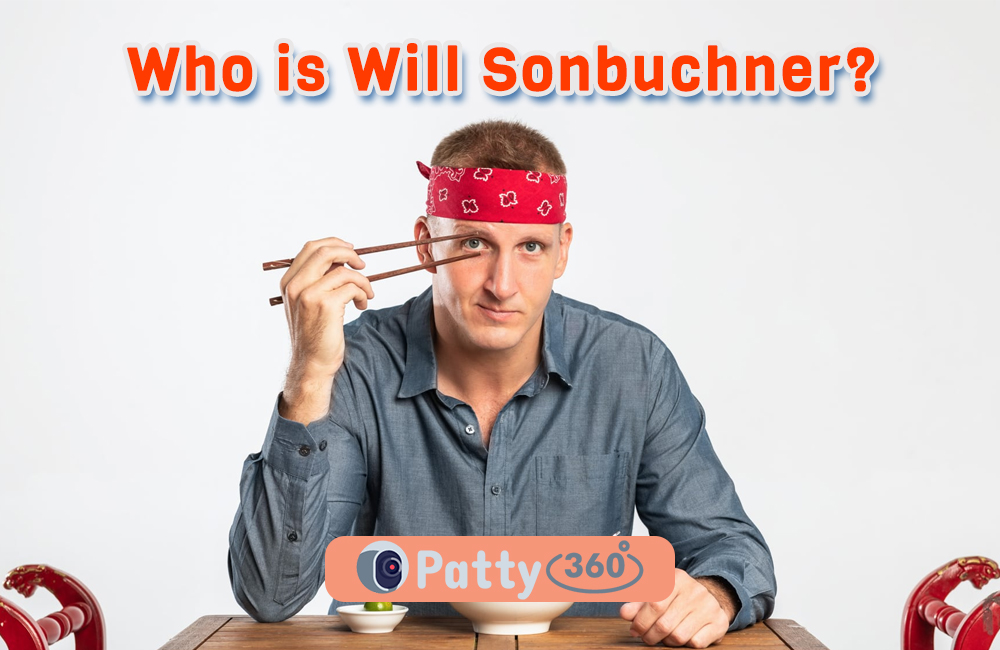 Food is that one universal element that brings us all together. It binds up together and we live for food in one way or another. While most of us limit our love for food to ourselves, people like Will Sonbuchner take things to the next level with their videos.
Besides being a popular food content creator on YouTube, Will is also a travel vlogger, who travels across the world to bring you more information about food from across the globe. Sounds like a dream job, doesn't it? After all, who wouldn't want to trot around the world seeing new places and eating the local food?
With close to 10 million subscribers on YouTube, Will Sonbuchner aka Sonny Side is the popular host of the show "Best Ever Food Review Show," which you must have come across one time or the other. Over the years, Will has managed to narrow down a very dedicated audience for himself.
If you follow Will closely and want to know more about him, his personal life, and his career growth, this is the article you need to read.
Early Life of Will Sonbuchner
Sonny Side or Will Sonbuchner was born on August 22, 1984, in St. Cloud, Minnesota in the United States. You'd be surprised to know this but Will revealed in a recent podcast with Joe Rogen that his actual name is Bill.
Given the humble upbringing that Will had growing up, it isn't surprising that his personal life, especially one involving his immediate family isn't publicized. There isn't any information about Will's parents, their names, or their careers.
However, it is known that Will has two siblings, both of which are highly educated. One of his brothers has a Ph.D. while his other brother has a law degree.
Will is Caucasian and he acquired his initial bout of education from Sauk Rapids-Rice High School. He then enrolled in a University but dropped out soon after because he didn't resonate well with what he was being taught at school.
Given the fact that Will grew up in a normal middle-class family, he never got to experience the kind of crazy lifestyle that he does today. He has revealed in multiple interviews that for him growing up, the concept of an exotic or expensive meal meant their family going out to eat at Red Lobster. 
Will has also revealed in some interviews that he didn't eat real peaches until later in his life. During his childhood, the only peach that he knew was the canned ones that were preserved in syrup. 
What's unique about Will's early career was the fact that he dropped out of college thrice, after which he started working briefly at Applebee's.
Where did Will Sonbuchner's Travel Journey Start?
Traveling is often exclaimed as a "bug" that people seem to develop at a certain point in their life. For Will, it happened for the first time when he traveled to Asia.
It wasn't a ground-breaking or earth-shattering moment but Will ended up moving to South Korea for some time where he taught English to people in Korea. At the same time, Will was learning about film production and kept producing and releasing videos titled "second-tier K-Pop stars."
But, his passion for YouTube and video creation kicked off when he started his exclusive show, the Best Ever Food Review.
When he later visited Vietnam, Will ended up understanding and exploring the true essence of traveling where he interacted with the locals, chased down chickens in the villages of Madagascar, and even bonded with the local tribal people to share their food and culture.
The more he traveled, the more Will fed the bug inside him. Soon after, he started diversifying his travel plans. But, the highs were not just the highlight. Will also found himself caught up in a lot of trouble, especially when he was visiting Egypt. Things escalated to the point where he had to submit and hand over all of his camera equipment to the authorities in the country.
He bargained a lot with the Egyptian government, who later ended up providing Will access to some of the footage he recorded, which he later published on his YouTube channel. 
Is Will Sonbuchner Dating Someone?
With the kind of steady popularity that Will has gained on YouTube and other social media platforms, it isn't surprising that his fans are often curious about his personal life.
During the initial days of his YouTube journey, especially with his food review show, Will ended up flirting with several of his co-hosts and female travel partners.
However, everything was finally put to rest when Will came out and confessed to having a girlfriend in 2020. Will and Carly Corinth finally tied the knot in 2022. However, there have been a lot of reports about the two splittings and there are reports about the couple ending up in a divorce.
What about Will Sonbuchner's YouTube Growth?
Will started with very basic quality videos but once his videos started taking off, he improved his style of filming and production, which was further reflected in the growth of his videos on YouTube.
Besides travel and food vlogging, Will's channel is also known for his humor and comedy videos. What's great about Will's content is its uniqueness. He is known for covering and showcasing foods and places in countries that are unique, hidden, and less explored.
This allows the viewers and future travelers to know about some of the hidden gems in an entirely new country. Besides his career as a YouTuber, Will also works as a video producer in a local travel company in Vietnam, which further contributes to his income.
Reports suggest that Will has traveled to 25+ countries until 2022. He has also visited Iran and filmed and uploaded content from there, making him one of the few YouTubers to do so.
Conclusion
Will Sonbuchner is one of the leading YouTubers on the internet. If you have been following his career ever since the beginning, we are pretty sure that you have a good idea about Will's popularity and the versatile content that he uploads to his channel.