Chat-GPD for productivity – how to form the correct queries.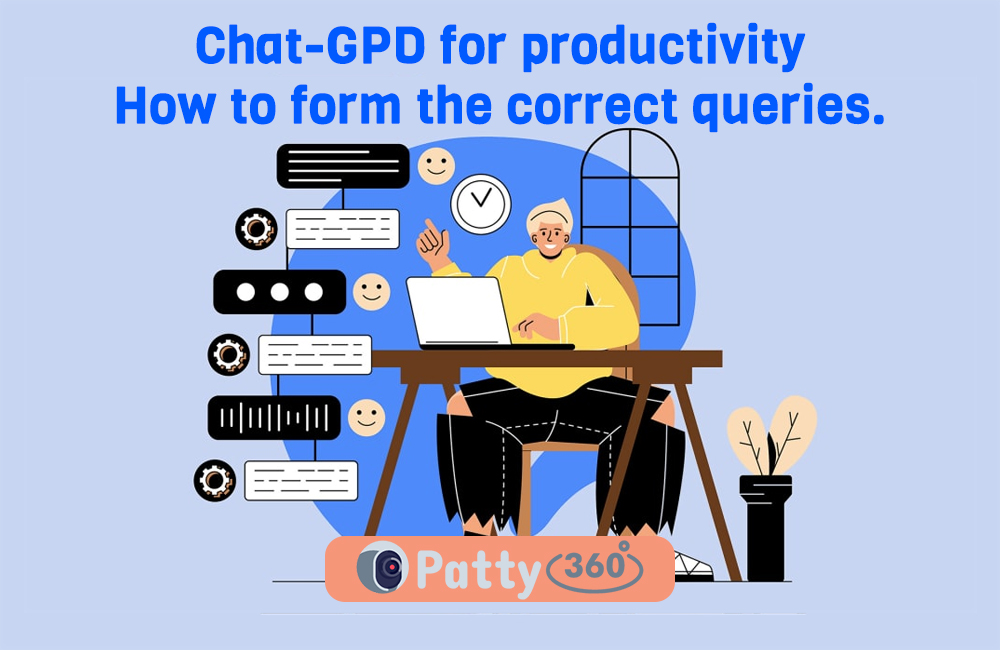 ChatGPT is an advanced image that can be very useful for increasing productivity. ChatGPT can form a task list or organize your work plan. For example, you can ask for help creating a to-do list for the day or a project plan. ChatGPT can help you create and edit textual content. You can ask for help writing letters, articles, reports, blog posts, presentations, etc.
The model can help explain complex concepts or topics and help with homework or exam preparation. You can use ChatGPT to get information about a specific topic, from simple facts to more complex and detailed explanations. If you need new ideas or are facing a creative quandary, ChatGPT can help generate ideas and suggest new approaches. ChatGPT can help improve your skills in various areas, whether language, programming, or time management skills.
Productivity can also be improved by scheduling time with a task progress tracker. Remember, you can continually refine your questions based on the answers you receive. Feel free to ask follow-up questions or ask for clarification if needed.
Brainstorming and research.
If you need new ideas for a project, article, blog, or any other creative venture, you can ask ChatGPT for ideas. For example: "I need ideas for an article on the application of AI in healthcare. Can you suggest some topics?" If you're facing a problem and are looking for new approaches to solving it, ChatGPT can help. Together you can explore different alternatives and approaches to the problem. You can use ChatGPT to get feedback on your ideas. Remember that while AI can offer perspective, it doesn't replace feedback from people who can apply their unique context and experience.
If you are researching a new topic and need an understanding of basic concepts and principles, ChatGPT can help explain them. For example, you might ask, "Can you explain the principles of quantum physics?" If you are researching a particular topic and need help figuring out where to start, ChatGPT can suggest places to start, major topics to explore, and even questions you find helpful to research. ChatGPT can help bring together information from various sources to give you a summarized view of a topic. ChatGPT is a powerful tool, not a substitute for scholarly research and expert opinion. Source verification and critical thinking are always necessary when conducting research.
Analysis and editing.
ChatGPT can help analyze information, but it is essential to remember that its limited capabilities cannot replace in-depth analysis with expert or specialized analysis tools. ChatGPT can summarize large amounts of information and highlight key ideas or themes. This can be useful when analyzing long texts or learning a new topic. If you come across complex concepts or ideas, ChatGPT can help explain them in simpler terms, making them easier to analyze and understand. ChatGPT can help analyze scenarios or hypothetical situations, suggesting different possible outcomes or consequences.
ChatGPT can help restructure sentences or paragraphs if you want to improve your text's readability or clarity. To better fit your objective or audience, ChatGPT can make suggestions on how to improve the style or tone of your writing. For instance, you may change a text's formality to make it more conversational and vice versa. ChatGPT can assist you in adding more information, examples, or arguments if you have an overview of the content but need to extend or improve it. But it's important to remember that while ChatGPT might be a helpful tool, it cannot replace human inspection and editing. Always check that suggested modifications adhere to your objectives and quality requirements.
How do I write a request correctly?
The answer will be more accurate and helpful the more explicit the query or request is. You may, for instance, ask, "What time management techniques will help me improve my productivity when working remotely?" instead of, "How can I increase my productivity?" Giving the model context lets it comprehend your inquiry more completely and customize its response to meet your needs. For instance, if you want advice on task organization, be sure to be precise about the tasks you're working on and the issues you're having. If you need assistance, be sure to be very specific about what you need the model to perform. Say, "Can you help me write an email for my team explaining the new remote working policy?" as an example if you need assistance with phrasing while drafting an email.
If your inquiry has several stages or components, divide it into a series of more uncomplicated inquiries. For instance, you could seek assistance defining the project's goal, scope, budget, etc., if you're working on a project proposal. Ask for a more thorough explanation or change how you convey the facts if the response requires further explanation. You may, for instance, ask, "Could you explain it in simpler language?" if the notion is unclear.