Steve Harvey Net Worth in 2023: How Much Does He Make Per Year?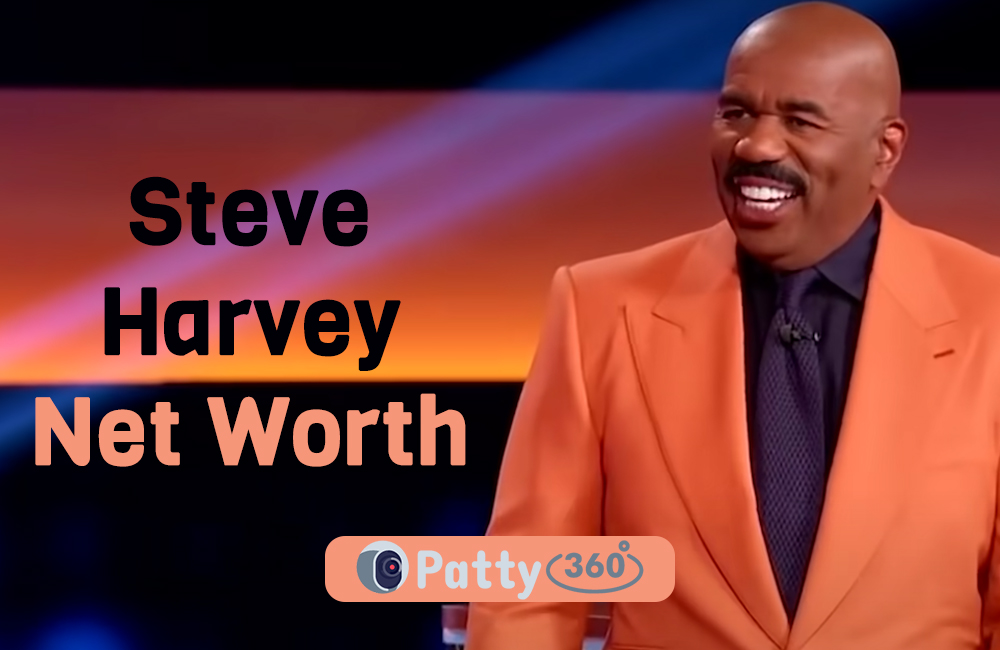 There's hardly anyone who doesn't know who Steve Harvey is. He is a famous American comedian, show host, entertainer, and businessman. As per sources, his current net worth is $200 million. 
He gained nationwide fame as a stand-up comedian in the 80s. Later, he hosted his show "The Steve Harvey." The show ran for six seasons from 1996 to 2002 and released 122 episodes.
Today, Steve is a very popular figure in the TV industry. He is the host of the popular radio show, "The Steve Harvey Morning Show." He is also known for hosting "Celebrity Family Feud," and "Family Feud."
As per sources, Steve earns around $40 million every year. He gets $20 million from his radio show and $10 million from "Family Feud."
Early Life and Career
Steve Harvey's full name is Broderick Stephen Harvey. He was born in Welch, West Virginia, on 17, January 1957. After some time, his family shifted to Cleveland, Ohio.
Steve completed his high school in 1974 at Glenville High School. After that, he enrolled at Kent State University to pursue a higher degree. Later he transferred to West Virginia University. 
Before becoming famous, he did various odd jobs. He worked as a boxer, insurance salesman, and autoworker. He served as a mailman and carpet cleaner.
He began his stand-up comedian journey in 1985 when he got the opportunity to perform in Cleveland, Ohio. During this time, he slept in his car as the organizers of the show didn't provide him with a hotel to stay.
He got his first hosting job on the show "It's Showtime at the Apollo". He attended the Kings of Comedy tour in 1997 with Cedric the Entertainer, Bernie Mac, and D.L. Hughley. This tour grossed $37 million, becoming one of the most successful tours of his career. Soon he started receiving lots of opportunities.
In 1996, he became the host of the show, "The Steve Harvey Show." He also hosted a radio show "The Steve Harvey Morning Show."
Steve has also appeared in films like "Love Don't Cost a Thing," and "The Fighting Temptations." "Steven Harvey: Don't Trip… He Ain't Through with Me Yet", his stand-up special came out in 2006.
Hosting Career
Steve performed his last show on 2nd August 2012, in Las Vegas. He worked as a stand-up comedian for 27 years. He quit his stand-up comedy career as he became successful in other projects.
In 2010, Steve got the opportunity to host the show "Family Feud". He also hosted the spin-off show, "Celebrity Family Feud." His interactions with the show's participants are very popular on YouTube. 
In 2013, he received two Emmy nominations for the Outstanding Game Show Host Daytime and the Outstanding Talk Show Host. This made him the first host to receive two nominations in history. The same year, he was inducted into the Hollywood Walk of Fame.
In 2015, he hosted the 2015 Miss Universe pageant. Even after naming the winner wrong, he continued to host three more seasons of the Miss Universe pageant.
Business Ventures
Today, Steve Harvey is a highly successful man. He is not only a well-known stand-up comedian but also an award-winning show host. Aside from that he is also involved in other business ventures. For instance, he published the book "Act Like a Lady, Think Like a Man."
He was also involved in the publication of the books "Act Like A Success," "Straight Talk, No Chaser," and others.
He also started a new online dating site called Delightful. In 2016, he collaborated with Ellen DeGeneres to create the show "Little Big Shots." 
In 2017, he united all his businesses under the label Steven Harvey Global. The company also holds the rights to "Family Feud." 
Personal Life
Steve Harvey has married thrice and has several kids. He has one son and two daughters from his first wife, Marcia Harvey. His second wife was Mary Shackleford Harvey. Together they have one son.
His third and present wife is Marjorie Bridges, whom he married in 2007. They share three children. Steve says that Marjorie has helped him become a better person.
He along with his wife founded The Steve and Marjorie Harvey Foundation, which caters to matters related to youth education and outreach.
FAQs
1. What is Steve Harvey's annual salary?
According to reports in 2023, Steve Harvey has an estimated net worth of around $200 million and an annual salary of $45 million. His income streams are multiple, which add up and contribute to his overall net worth over time.
2. What businesses does Steve Harvey own?
One of the biggest businesses that generate maximum income for Steve Harvey is Steve Harvey Global, which is an entertainment company that houses different production houses. He is also the author of four books, which bring him a steady income.
3. How old was Steve Harvey when he got rich?
Steve Harvey's rise to success didn't come right away. The man was almost 40 when he bagged his first big gig in hosting The Steve Harvey Show in 1996. He did get a late start to his success but has managed to become one of the most celebrities.
4. What is Steve Harvey's car?
Steve Harvey owns several luxury cars. Among them, one that stands out is Rolls Royce and Bentley. Besides that, he also owns a Ford F-150 and a 1941 Cadillac Convertible. There isn't much information about the other cars in his possession.
Final Words
Steve Harvey is a great man both in real and reel life. He has been in the entertainment industry for decades and built an extremely successful career for himself. From being a stand-up comedian, he has turned into a popular show host and businessman. He earns more than $40 million every year.