Hasbulla Magomedov: His Real Age, Disease and Net Worth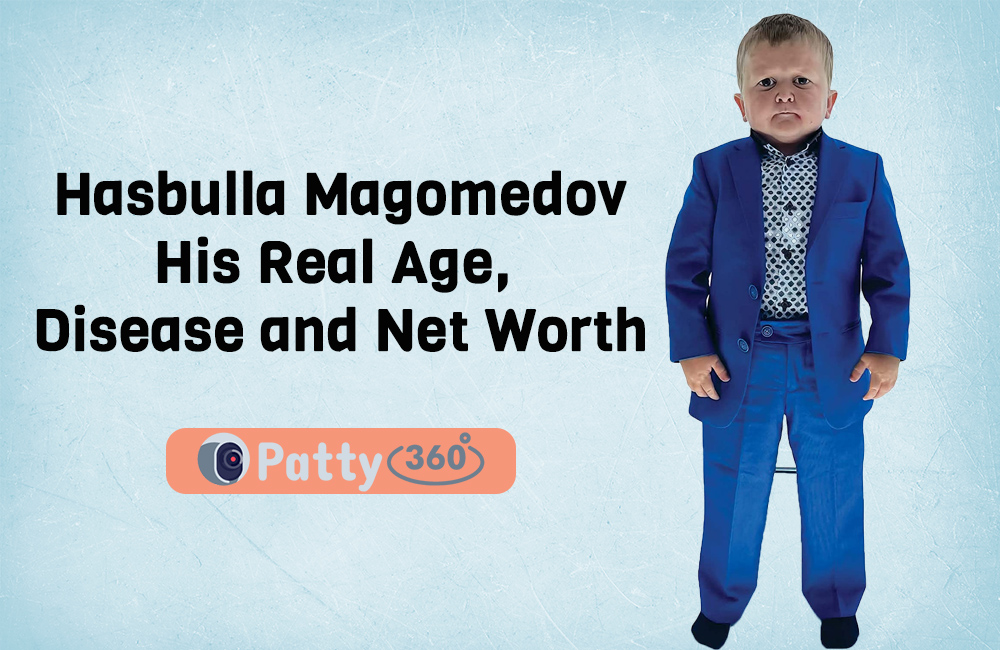 As human beings, we are judgemental. Whenever we look at something or someone a little bit different, we tend to start speculating things about other people's lives that we don't have any idea about. The same happened with Hasbulla Magomedov. Although he has gained immense popularity as an internet personality, Hasbulla's rise to fame started with one viral video.
While most people speculated a lot of differences in his appearance, it was later revealed that Hasbulla's shorter appearance was due to a disease that he was diagnosed with at an early stage of his life. He is often known as Mini Khabib following his viral posts with fighters Khabib. 
If you are completely unaware of Hasbulla, his real age, disease, and net worth, keep on reading to unfurl all the details.
Early life of Hasbulla Magomedov
Hasbulla Magomedov is a popular Internet personality who was born in Makhachkala, Dagestan, Russia in 2003. Despite his appearance, Hasbulla is 19 years old and suffers from a genetic disorder known as Growth Hormone Deficiency, which resulted in stunted growth and the baby-like appearance of Mini Khabib.
GHD is a type of dwarfism that affects the growth of the person and leaves them with a shorter height and child-like appearance, which is distinctive in Hasbulla's case.
Hasbulla is 3 feet and 4 inches tall but has managed to gain a lot of popularity online, following sharing his life on social media platforms like Tiktok and Instagram. During the Covid-19 pandemic, Hasbulla posted about his temperament, which then switched to showing his life training in martial arts, fighting, boxing, etc.
Ever since the first viral post of Hasbulla, he started posting more and more across different social media platforms, leading to his current grandeur and name on the internet. His trash-talking skills against popular fighters and singers like Connor McGregor and Abdu Rozik also put him in the limelight.
Where did Hasbulla Get his Nickname "Mini Khabib"?
Besides being known by his actual name, Hasbulla is known across the internet as Mini Khabib after sharing a post-re-enacting Khabib Nurmagomedov's iconic UFC 229 weigh-in.
The video went viral on different social media platforms, putting him in the limelight across different social media platforms. When Khabib saw Hasbulla's post on the social media platforms, he allegedly reached out to the 19-year-old and the two struck up a conversation and ended up becoming friends.
Besides their close friendship, the uncanny similarities in the appearance of Hasbulla and Khabib have also led people to believe that there are chances that the two are related, which is not a justified report at all. However, that's where Hasbulla acquired his nickname, "Mini Khabib".
Did Hasbulla experience Backlash?
When you put your life out on the internet for people to watch and criticize, it comes with a fair bit of backlash. The biggest issue came around with Hasbulla's sudden rise to fame as well.
Hasbulla's social media growth, popularity, media performances, and different MMA fights have rubbed people the wrong way and are often dismissed as cheap publicity stunts. People are also questioning the fact that it undervalues the struggles of other people who face issues due to their dwarfism daily.
Both the general public and several organizations regard Hasbulla's performance as unnatural and even unethical in some instances. 
One of the biggest backlashes came from the Head of the Russian Dwarf Athletic Association, Uliana Podpalnaya, who commented on Hasbulla's MMA fight saying that it's not even a real fight. According to Uliana, they get paid an excessive amount of money and the entirety of it is for the show, which is made for the entertainment of the people.
Uliana further went on to say that MMA is not a sport and there is nothing serious about how the entire process progresses. She further suggested that the entire process is quite unethical as well.
What about Hasbulla's High and Luxurious Life? – Net worth of Hasbulla
Despite the kind of backlash that Hasbulla has experienced ever since going viral, he has managed to overlook the negativity in the situation. Even recently in an interview, Hasbulla reported that his aim isn't to fight in MMA. That's not his end goal. Instead, he wants to engage and devote himself to Quran and learn more about his religion.
Setting aside the criticism, Hasbulla has garnered a lot of names for himself in the market, wherein he has shown off his luxurious lifestyle in multiple accords. 
Although nothing can be 100% confirmed, it is believed that Hasbulla's current net worth is around $200,000, which is gradually increasing with the kind of consistent exposure he is getting across multiple social media platforms. 
Also, reports suggest that if Hasbulla's fight with Abdu Rozik does go ahead, his net worth will exponentially rise even further.
Is Hasbulla Famous for Revving Cars?
Besides being known for his boxing and social media personality as Mini Khabib, Hasbulla is also popular on the internet for revving cars. Hasbulla has often taken to his Instagram to showcase his luxurious lifestyle – his exquisite taste in cars is one of them.
You can often find the 19-year-old showcasing a range of BMWs and AMGs on his social media profiles. Due to his short height, Hasbulla doesn't drive but you will often find him lapping on top of the drivers, taking the cars out for a swing.
Besides cars, Hasbulla has also shared multiple videos handling 9mm guns and even a variety of knives. He was also recorded firing an AK-104. However, everything is done in a controlled environment, so you won't have to worry about his or other people's safety in questions.
Also, if you are sitting here wondering about the much-awaited Hasbulla vs. Adbu Rozik fight, we have to say that there is no official confirmation or date about the fight yet. No one is even sure at this point if the fight will happen in the first place. Despite the thrill and the excitement, most of the audience is criticizing it big time.
Recommended: