Shark Tank Cast Ranked by Net Worth in 2023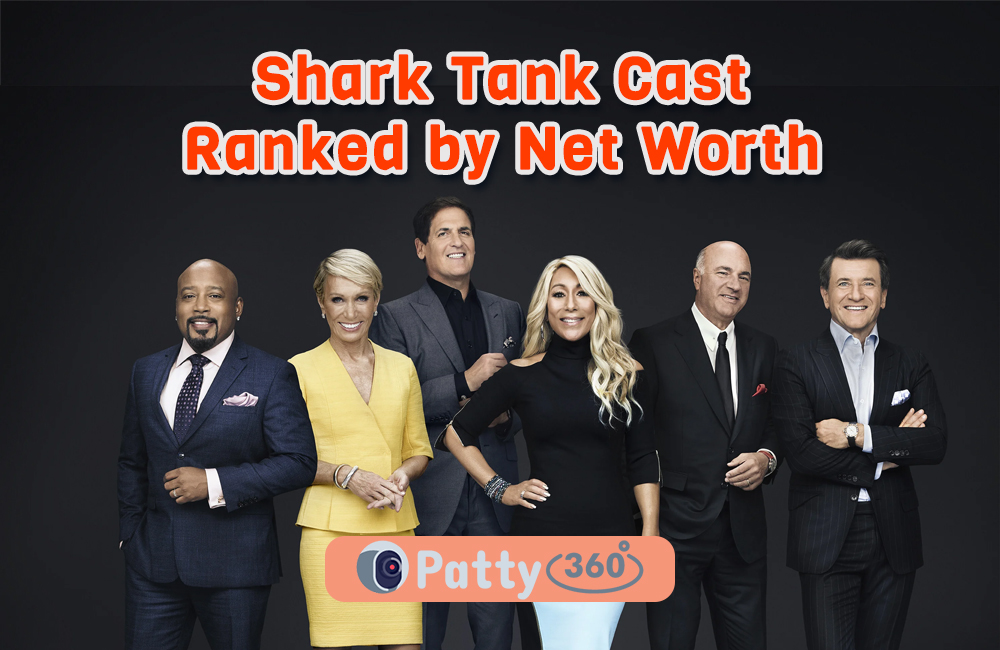 Following its debut in 2009, Shark Tank has managed to gain millions of followers across the globe. Inspired by the concept of the show in the United States, a rendition of it also aired on Indian television.
Now, if you are an OG Shark Tank fan and have been consistently wondering about the net worth of the Sharks, you aren't the only one. You must be sitting there wondering, "How much do these sharks earn for them to invest in these businesses so seamlessly?"
Well, that's the catch, isn't it? Shark Tank is not just known for bringing forth the innovative ideas of the entrepreneurs; it is equally as much about the sharks, who are established, business professionals and investors.
This article will walk you through a list of all the top Shark Tank casts ranked according to their net worth.
1. Mark Cuban
When it comes to ranking the sharks from Shark Tank based on their net worth, Mark Cuban undoubtedly takes the top spot without any questions asked. He currently has a net worth of a whopping $4.6 billion, according to the Forbes report. 
If you are wondering where he generates his income, Cuban is the owner of the Dallas Mavericks NBA team. He has a great eye for good businesses and ideas and has managed to grow his net worth with his cautious investments in multiple of the projects and businesses that aired on Shark Tank.
Cuban has also recently launched another venture in the healthcare niche called Cost Plus Pharmacy, whose main objective is to make medicines more affordable and accessible. He has a prominent influence in the field of NFTs and cryptocurrency as well.
2. Kevin Harrington
Following in in close second is Kevin Harrington with a net worth of $400 million. He was a permanent fixture in the first two seasons of the show and managed to invest in pretty great businesses in the show. 
His professional growth kicked off after he founded Quantum International, which led to the production of the first infomercial back in 1985. Following the initial success, he leveraged that business idea to further grow and propel his career in the right direction.
Besides that, Harrington worked as the head at Harrington Business Development Inc., which led to the publication of multiple different books, etc. Over the years on Shark Tank, he has invested in some businesses that have generated a steady income.
3. Kevin O'Leary
Tying together at $400 million, even Kevin O'Leary is a famous shark on Shark Tank that deserves a special spot in the article. His rise to success started when he founded his first company, SoftKey International back in 1986. Following that, O'Leary also started another business called Storage Now, which focused on providing people access to temperature-controlled storage.
Storage Now managed to gain exponential success, especially in acquiring big accounts like Pfizer. Besides these, O'Leary has started multiple other brands and companies including O'Shares ETFs, O'Leary Publishing, and O'Leary Fine Wines.
Besides his entrepreneurial journey, O'Leary also participated in politics after being part of Canada's Conservative Party during the 2019 election but pulled back soon enough because he didn't think he would be able to secure a big win.
4. Daymond John
Following closely after O'Leary, we have Daymond John with a net worth of $350 million. If you are a 90s kid, you probably know his clothing brand, FUBU, which shook the market by storm. Not just the public, the brand was equally loved by celebrities. 
After the initial success, Daymond sold his brand to Puma for $200 million, further boosting his net worth.
Besides his companies and branding, Daymond also earns a steady income through speaking engagements and also by selling his books. But, his appearance on Shark Tank and his investments of $8.5 million have brought him back a steady return, further increasing his net worth steadily.
5. Robert Herjavec
The popularity of Robert Herjavec shifted following his appearance on Shark Tank. He is not just a businessman but an equally popular television personality, who appeared on Dragon's Den as well. Although he was born in Croatia, Robert later immigrated to Canada to further add wings to his career.
Herjavec's growth deserves applause, especially with the diligence and hard work he has put into it. His initial career started with him waiting tables and selling newspapers. 
But, in the meantime, he kept working on his computer company in his basement, which further grew and blew up exponentially, taking him to the position that he currently is in now. Robert has an estimated net worth of $200 million, which is nothing short of mind-blowing.
6. Lori Greiner
There aren't many female sharks on Shark Tank but Lori Greiner is one of the two. She is known for her jewelry designing businesses and she made a guest appearance in season three. 
Her investments in Shark Tank, especially with some of the biggest businesses include Scrub Daddy and Squatty Potty, both of which gained pretty steady income and revenue. As per the current reports, Greiner has an estimated net worth of $150 million.
7. Barbara Corcoran
Last on the list of the richest Sharks on Shark Tank include Barbara Corcoran. Known for her witty personality and outspoken nature, Barbara rose in her career flipping $1000 into $6 billion in the competitive real estate industry.
Besides her business, Barbara also hosts multiple podcasts and is a published author as well. There isn't much information about her investments but apparently, she has invested in around 80+ companies, further growing her net worth to $100 million, which is where she is standard today.
FAQs
1. Who is the richest cast in Shark Tank?
Among all the Sharks appearing on the show, only one of the lots is a billionaire, which is Mark Cuban. So, when it comes to ranking the richest cast in Shark Tank, it has to be Mark Cuban, without a speck of doubt. With over $5 billion in net worth, he is the biggest on the panel in terms of finances.
2. Who is the richest guest on Shark Tank?
Among all the guest Sharks that have appeared on the show, Richard Branson with an estimated net worth of $3.9 billion is considered the richest guest on the show. He is the founder of the Virgin Group and also a philanthropist who is known for his charity work globally. He owns 400+ companies. 
3. Who is the poorest shark in Shark Tank?
The word "poor" is an underestimation. However, when it comes to ranking all the sharks on the show, Barbara Corcoran is the one at the bottom of the list with an estimated net worth of $100 million.
4. Which Shark on Shark Tank U.S. has invested the most?
Among all the sharks, Mark Cuban has reportedly invested the most amount on the businesses, amounting to around $18.7 million.
Conclusion
If you are an avid Shark Tank viewer and have been wondering how much the individual sharks are worth, we hope this article gives you a concrete idea about the same. Just ensure that you have a clear understanding that these are real-time investors, so their net worth is dynamic and subject to change in the future, depending on how the individual businesses are performing.