The Highest Paid Tennis Players of 2023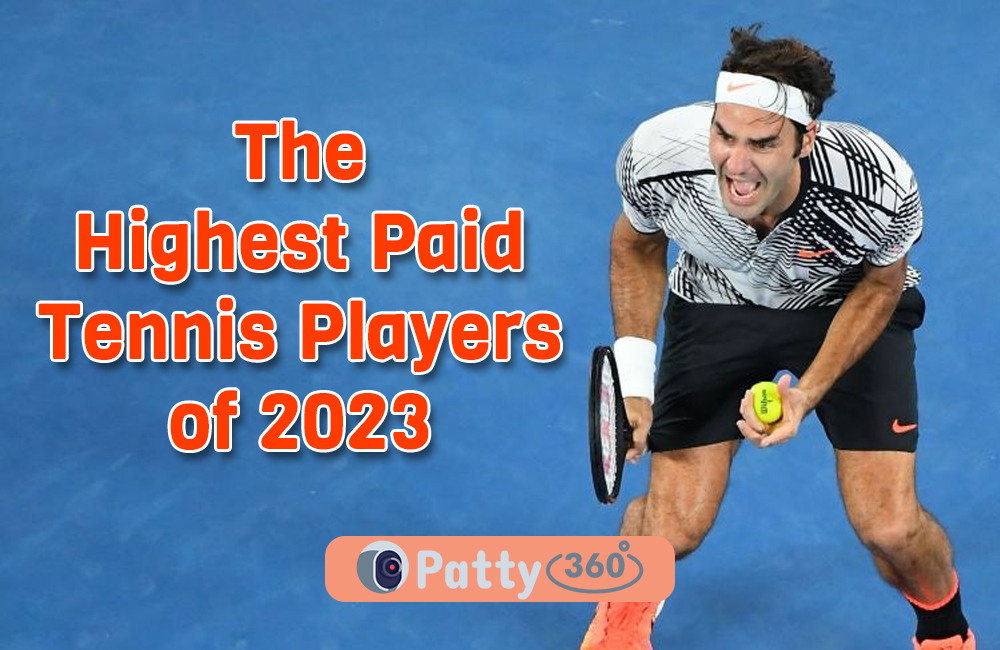 Is playing tennis a well-paid profession in 2023? It certainly can be, but there are a whole host of factors in play here. The 'new kids on the block' can expect to earn just a fraction of tennis legends such as Serena Williams and Roger Federer, because the bulk of any athlete's income is certain to arise from deals such as endorsements that are made off the court or field. The prize money – even for legendary contests such as the US Open or Wimbledon – is often relatively tiny by comparison!
Why Tennis?
You may be surprised to learn just how popular tennis is – current estimates peg the sport just below soccer in terms of worldwide popularity, a statistic earned via the games estimated one billion fans around the globe. The overall tennis market was estimated to be worth in excess of six billion dollars in 2020, and it's not just a spectator sport either – there are over 87 million tennis players worldwide too.
If you've ever placed a bet on tennis yourself, there's a high probability that you'll be familiar with the United Kingdom's legendary Wimbledon Championships – the world's oldest and longest-running tennis tournament.
The 2023 Wimbledon Championships will be the 136th staging of the tournament, and the first to occur under the reign of new monarch King Charles III. The late Queen Elizabeth II was a well-known tennis fan who attended almost every Wimbledon Championship up to her death in September 2022. If you we're thinking of placing a bet, it's worth knowing the odds – here's where best betting sites 2023 currently peg the top players for this years Championships:
| | |
| --- | --- |
| Novak Djokovic | 10/11 |
| Carlos Alcaraz | 15/4 |
| Danlil Medvedev | 13/2 |
| Matteo Berrettini | 14/1 |
| Jannik Sinner | 14/1 |
| Stefanos Tsitsipas | 14/1 |
| Alexander Zverev | 16/1 |
| Nick Krygios | 17/1 |
| Felix Auger Aliassime | 20/1 |
| Taylor Fritz | 25/1 |
| Rafael Nadal | 25/1 |
| Holger Rune | 25/1 |
Roger Federer – £76m
The highest-paid tennis player of 2022, Roger Federer, is actually now retired – a perfect demonstration of the unusual setup of athlete pay that we mentioned earlier! Roger is widely regarded as one of the best tennis players of all time, with a record 20 major men's singles titles to his name. At one stage, Roger was practically unbeatable – he held the world's number one ranking for 237 consecutive weeks, with an overall count of 310 weeks alongside.
Roger's 2022 earnings were in excess of £76 million, nearly all resulting from his off-court sponsorship portfolio. Federer's sponsorship arrangements are lucrative to say the least, but he's also earned more than £110m in prize money during his time on the courts as well.
Naomi Osaka – £47.29m
The first Asian player to hold the world's number one ranking according to the Women's Tennis Association (WTA), Japan's Naomi Osaka is a tennis tornado who has swept the world by storm. She won her first two major titles in back-to-back matches at the 2018 US Open and 2019 Australian Open, a feat only previously achieved by tennis legends such as Serena Williams and Jennifer Capriati.
Osaka currently has 15 major endorsement partners including household names such as Nissan and Nike, alongside tennis-specific brands such as Yonex –Naomi's official racquet partner. There's no breakdown of exactly how Naomi earned her £47.29m last year, but it's fair to assume that at least 75% will have resulted from her sponsorships and endorsements.
Serena Williams – £29.54m
Serena Williams is nothing less than a living tennis legend – she first turned pro all the way back in 1995, and many pundits wrongly predicted her retirement for several years prior to her eventual statement in 2022 that she was to hang up her racquet for the last time. Serena's retirement marks the end of a career that has spanned more than three decades, making her one of the longest-working professional athletes in the history of sport.
Williams did play far less tennis in recent years, however – a fact confirmed by her tiny prize money earnings of just £250,000 during 2022. I doubt that it troubled the star much, however – she has already £29.45m pounds  in prize money during her career, and sponsorships and endorsements also earned Williams a further £30m during 2022.
Novak Djokovic – £27.10m
The current favorite to win this year's Wimbledon Championships, Novak Djokovic, who earned £27.10m in prize money and sponsorship deals during the past year alone. Djokovic, 35, is currently ranked as the world's number one player – a position that he has held for a record-breaking 379 consecutive weeks. We could fill the rest of this article talking about Djokovic's on-court record – he holds so many open, masters, and tour victories that it will be extremely difficult for another player to match his achievements in the future. £6m of Novak's earnings came directly from prize money, with the remainder made up by sponsorships and endorsements.