Below Deck Season 1 Cast – Where Are They Now?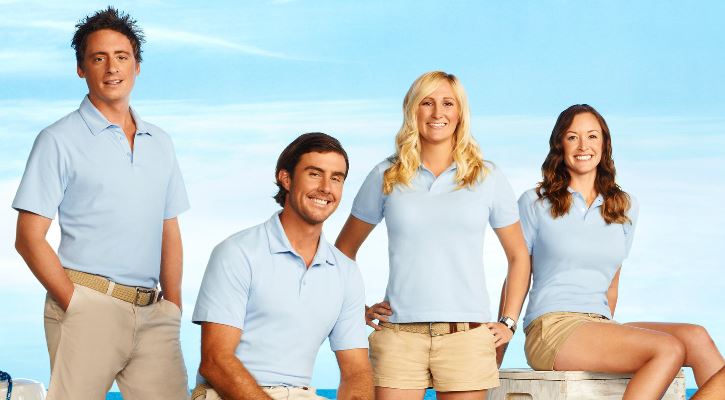 So you've just finished binge watching season 1 of Below Deck and now you're eager to find out what happened to original crew! After all they played a huge part in helping the show become a huge hit for Bravo. Believe it or not, series one was filmed back in 2013 so lot can happen in seven years!
Aleks Taldykin – First Officer
Aleks was originally cast as the captain but the boat's owner didn't like the idea and Captain Lee (stud of the sea) stepped in to take his place. This is probably why Aleks seemed to resent Captain Lee throughout the season. Not surprisingly, Aleks is still working in the yachting industry. Currently working in super yacht sales and charter for Denison Yachting. Unfortunately we only got an opportunity to see Aleks lovely eyebrows for one season.
Ben Robinson – Chef
Englishman Ben and his epic laugh went onto to become a cult hit on the series, appearing in a handful of Below Deck and Below Deck Mediterranean seasons. Ben finally announced his departure from the show in 2017, citing stress and wanting to settle down as key reasons for leaving. Chef Ben now lives in Florida and runs a successful catering company.
Adrienne Gang – Chief Stewardess
Adrienne didn't come on board to make friends and definitely took her job way too seriously. Adrienne is still a yachtie and works as a Chief Stew on other boats. She got married in 2018 and has been pretty vocal on Reddit revealing how the show is heavily produced.
Kat Held – 2nd Stewardess
Kat, the crazy party animal appeared on two seasons of Below Deck before leaving the industry for good. After the show, Kat moved home to Rhode Island – working as a bartender, waitress and is currently pursuing nursing as a career.
Samantha Orme – 3rd Stewardess
Sam's fun loving attitude and hatred for authority wasn't a good fit for her role as third stew. She left yachting to resume her career working as an engineer. In July 2020, she gave birth to her first child and is also married.
C.J. LeBeau – Second Engineer
Similar to Sam, C.J. didn't like authority or Captain Lee for that matter. Rebellious C.J. left before the final charter, leaving on a boat with strangers he just met 10 minutes prior. Since the show aired C.J. was arrested for assaulting his girlfriend. Apart from that bombshell C.J. has kept a very low profile and all social media accounts are set to private. He would be about 40 years old now, so I imagine he has settled down and has kids.
Eddie Lucas – Deckhand
Eddie Lucas was a fan favourite on the show up until his affair with a fellow crew member in season 3. He later broke up with his then girlfriend and worked on tugboats for a while. Eddie is returning for season 8, hopefully he can redeem himself this time around!
David Bradberry – Deckhand
Hands down the nicest person on the show and managed to avoid any drama. David got engaged to his then-boyfriend during the show but later divorced in 2019. David also appeared as a deckhand in one other season, working alongside his best friend Eddie. Currently he's now an actor and lives in D.C.
Lee Rosbach – Captain
Captain Lee Rosbach remains the longest-serving member on the Below Deck franchise. He lives in Fort Lauderdale with his wife and remains friends with several former cast members. Once again captain Lee will take the reins for season 8.