Most popular & trending girly Accessories in 2022 Girls must wear to enhance their Charm: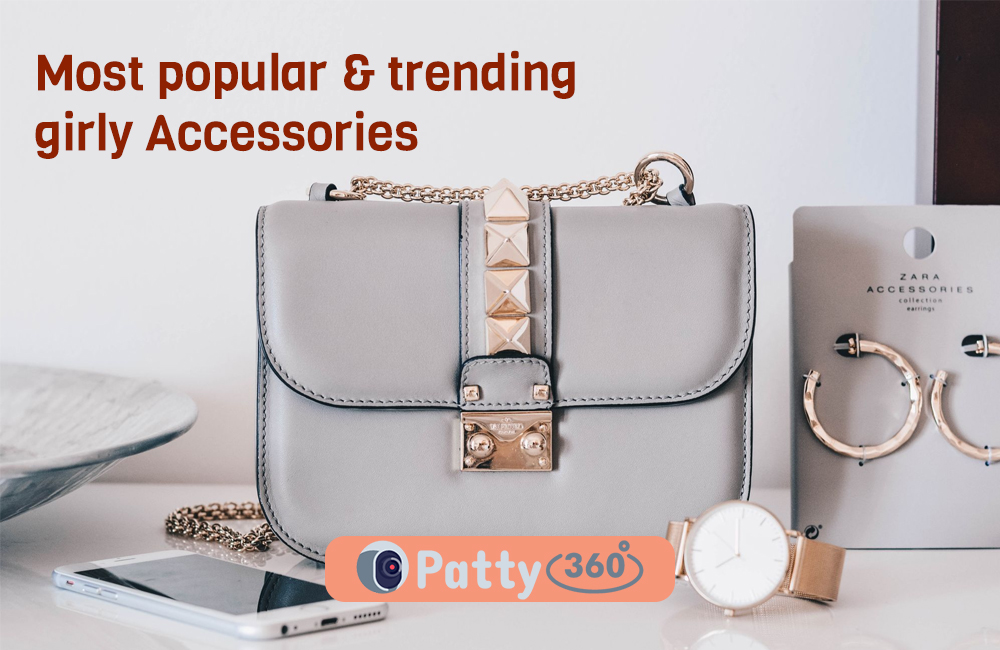 It is a well-known fact that women are blessed with styling instincts as such they can make any piece of clothing stylish and elegant quite gracefully. Despite the constant change in the fashion industry, women always manage to stay in style somehow. That being said, in this article, we are going to discuss some of the must-have accessories that women or girls should own in order to stay in always changing fashion industry. To cite some of the accessories that the girls/women must have are trendy sling bags, bracelets, earrings, sunglasses, necklaces, and many more.
Fashion for girls and women is just like oxygen, without it they will not be able to function properly. Having a fashion statement is one of the most important parts of women's life without it they feel incomplete as such something is missing. That being said let us discuss some of the must-have trendy accessories for girls and women in the year 2022.
Most popular & trending girly Accessories in 2022 Girls must wear to enhance their Charm:
1 . Earrings:
Earrings are one thing that is always on trend as such there are numerous types of earrings and every other earring portrays a different side of the wearer. For instance, if someone wants to wear a traditional outfit then there are lots and lots of traditional earrings while on the other hand if someone wants to go for a professional look then there are some earrings for that also. All in all, there is a different set of earrings available for every occasion, such as diamond, gemstone, studs, fun colors, different shapes,  traditional, and many more. It is up to the wearer, how they want to wear the earring.
2. Necklace:
The necklace is yet another major attraction or fashion statement accessory for women and girls as the necklace is one such ornament that most people notice first when they meet them. The size and shape of the necklace depending on the occasion, if the event is formal then one should wear a simple and elegant necklace while on the other hand, if the event is a social gathering or even a marriage then they can opt for a more traditional and heavy necklace that goes well with the attire.
There are many options for the necklace available on the market for instance there are metallic gold necklaces, diamond studded necklaces, gemstone necklaces, silver necklaces, and many more. One thing to consider is that wearing a necklace that complements your attire will always keep you fashionable and will never go wrong.
3. Handbags:
Handbags are also an integral part of styling into the women's world as such they are one such accessory that can help them carry alot of things in one place. There are various types of handbags available in the market that serves a different purpose on different occasions. To cite some, sling bags are used to lift the weight from the shoulders, conventional handbags are used for the day-to-day purpose, clutches are used as a fashion statement while partying, and many more.
That being said, it is safe to say that owning the right handbag for different dressing and places will surely keep you ahead of the rest and will help you make a good fashion statement for the people around you.
 4. Belts:
Adding a good quality belt will surely make your fashion statement strong and they are quite trendy too. As such with the constantly changing fashion statement, the belt is the only constant that has stayed the same. They are so versatile that they can be used with any attire, be it formal, traditional, partying, or any other dressing type, different types of belts suits different attires.
5. Watches and bracelets:
Watches and bracelets are another styling option that girls can opt for to stay trending as such there are many types and styles of watches and bracelets to opt from. The right bracelet or watch can make your look chicer, therefore choose the right type of watch or bracelet for your attire and your overall personality look will be enhanced.
Conclusion:
The above mentioned are some of the best and trending options to look fashionable as such these things never go old or out of style. The right accessory will enhance the overall look and personality of the wearer. That being said, let us hope that the article helps you to make your styling more fashionable.