How To Post Audio on WhatsApp Status on iPhone & Android?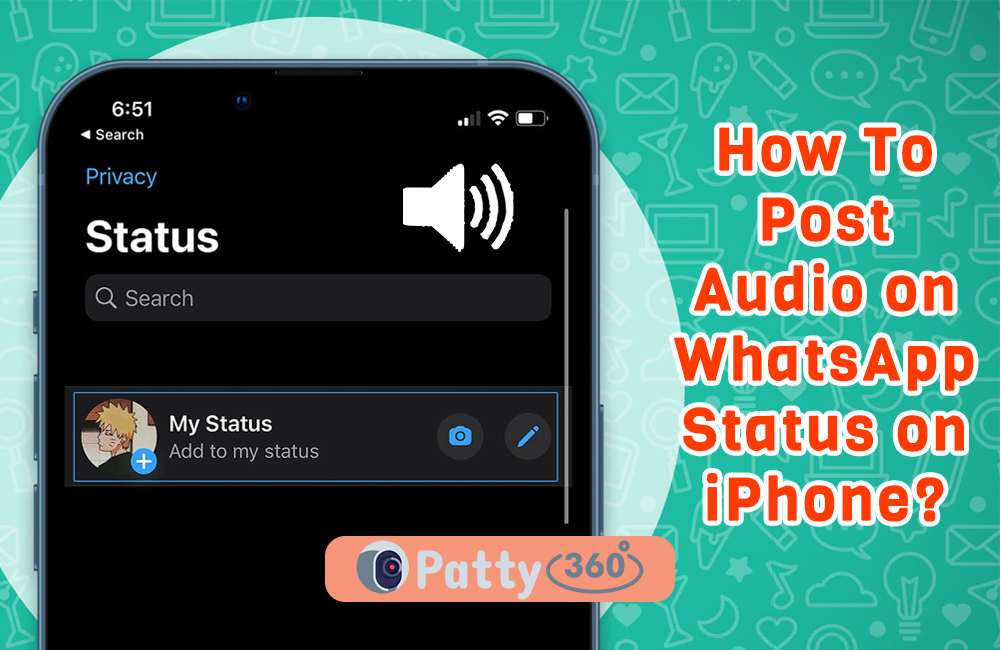 Let's say you aren't a big fan of posting videos on WhatsApp Status but you also don't want to miss out on this feature. To mitigate that issue, WhatsApp now allows users to post audio on the status via iPhone and Android devices.
Given that the feature and the concept are quite new, it isn't surprising that most people have this misconception that you can only add audio that you record in real-time and post it right away. That's not the case at all.
The WhatsApp audio feature is one of those underrated features that no one knows about but will benefit a lot from. If you are new to the feature and don't have an idea how to go about it, this is the article you need to scroll through.
Overview of WhatsApp Audio Status Feature
Before we familiarize you with the ways you can post audio on WhatsApp status on your iPhone, let us give you a brief rundown of things.
The WhatsApp Audio Status feature is quite a recent launch as mentioned on the February 07, 2023 blog released by WhatsApp. Besides the audio feature, Meta also introduced a series of other features, including private audience selector, status profile rings, status reactions, etc.
So, it looks like Meta is currently working on improvising the different features that are available for WhatsApp Statuses.
Now, with the WhatsApp Audio feature, you get to record short audio recordings and then put them on your WhatsApp Status. The recordings can be a maximum of 30 seconds long and like every other type of status, these too will be deleted after 24 hours.
How to Post an Audio on WhatsApp Status the Straightforward Way on iPhone?
Now, the features and functionalities of WhatsApp are pretty much identical on both Android and iPhone devices. This means that the steps we mention can be done on both these devices.
That said, if you want to post audio on your WhatsApp Status via your iPhone, here's what you need to do:
Open your WhatsApp app and then navigate to the Status tab.

Find the "Pencil icon" at the bottom of the screen.

This will redirect you to the "Create a new status" page. Click on the Mic icon there.

Record the audio status that you wish to post.

Once you are done recording, you can listen and confirm that you are happy with the audio status and then upload it by clicking on the Arrow icon.
Depending on who you share your status with, the audio status will be forwarded to all your contacts in the list.
What are some Alternative Ways to Add Audio to WhatsApp Status?
Now, with the straightforward WhatsApp Audio status out of the way, let us shift our focus to a few alternative ways. Keep in mind that these aren't wholly audio statuses but something around that vicinity, which is why we knew we had to include them in the list.
Add Favorite Audio Song to a Text Status
So, let's assume you have a text-based WhatsApp status that you wish to upload. Well and good. Simply posting the text-based status can be quite boring. This is where you can spruce up the status and make it more exciting by adding your favorite song to the status.
But, the question is, "How do you do it?"
Here's what you need to do:
Open WhatsApp on your iPhone and then switch to the Status tab.

Click on the + icon to create a new WhatsApp Status

Choose the video from your gallery whose audio you want to apply to the status.

Tap on the Pen icon and select a color to fill up that WhatsApp status into a solid color. You have to drag the pen across the entire screen to do this.

Once you finish, click on Done.

Next, you can select the Text icon to add text to your WhatsApp Status over the solid background you just created.
And, that's all. Now you have the audio playing in the background but since you have covered it with solid color, you won't be able to view anything but the text on the WhatsApp status.
1. Using Instagram to Create WhatsApp Audio Status
This is a hidden technique that many users aren't aware of. But, the catch here is that you should have an Instagram account and it should be on the same iOS device as the WhatsApp account.
Here's what you need to do:
Open your Instagram app on your iPhone and create a New Story by swiping left.

From your gallery, pick an image and then tap on the sticker icon in the top-right corner. 

Under that, find the Music icon.

Add your favorite song to the status and click on Done.

You can then post it to your Instagram stories and download it from there.

Keep in mind that if you don't want to let the story up on Instagram, you can immediately delete it too.

Now, head over to WhatsApp and create a new Status.

Select the video with the music you just downloaded from Instagram.

Upload that to your WhatsApp status and then click on the arrow button to share it with your contacts.
This, in no way, is an easy method. We won't recommend this as your first choice, especially with the number of steps you have to work through. 
Since the WhatsApp Audio status is an integrated WhatsApp feature, we'd recommend that you keep a check on the standard method we have sorted you out with in the beginning. It works seamlessly on your iOS device and shouldn't take you more than a minute to get done with.
Conclusion
WhatsApp is consistently evolving and diversifying its features after listening to its users. If you were looking for the WhatsApp Audio status feature, it is finally available. We'd recommend that you update your app to the latest version because that's necessary. Since it's a new feature, you must update your app to avail the benefits.