The Ins and Outs of Secure Online Gambling in Australia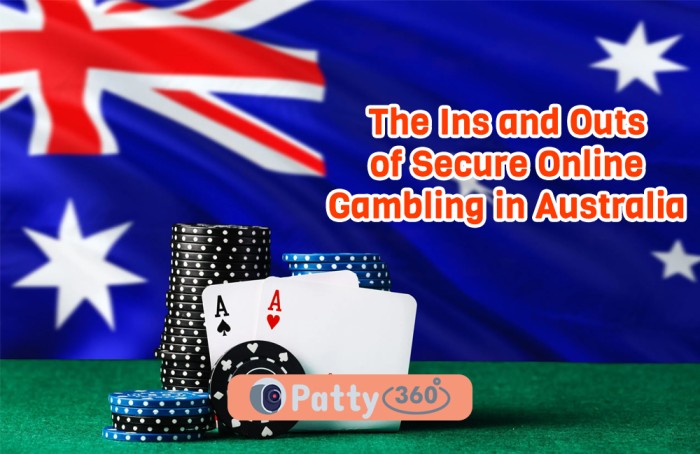 Australia is a land of many passions, and one of those passions is gambling. Aussies love to try their luck at various games of chance, from pokies and blackjack to sports betting. With the rise of online gambling, it's now easier than ever for Australians to enjoy their favorite games from the comfort of their own homes. However, the world of online gambling can be a bit murky, and security is a top concern. In this article, we'll delve into the ins and outs of secure online gambling in Australia, so you can enjoy your gaming experience without worrying about the safety of your personal and financial information.
1. Understanding the Legality
Before you dive into online gambling, it's essential to understand the legal landscape in Australia. Online gambling laws can be complex, and they vary by state and territory. The Interactive Gambling Act of 2001 is the primary federal legislation that regulates online gambling in the country. It prohibits the provision of online gambling services to Australians but does not criminalize individuals who choose to gamble online.
However, it's crucial to note that some states and territories have their own laws and regulations. For example, the Northern Territory and the Australian Capital Territory issue licenses to online gambling operators, which must adhere to strict guidelines to ensure fair play and player protection. Always check the laws and regulations in your specific location before engaging in online gambling.
2. Choose Reputable Online Casinos
Selecting a trustworthy online casino is the first step in ensuring experience at online gambling in Australia is secure. Here are some tips for choosing a reputable platform:
a. Licensing and Regulation
Look for online casinos that are licensed and regulated by recognized authorities. Licenses from the Malta Gaming Authority, the UK Gambling Commission, or local Australian regulators provide a level of assurance regarding the casino's legitimacy.
b. Player Reviews and Ratings
Read reviews and check ratings from other players. Trustworthy casinos should have a positive reputation for fair play, fast payouts, and excellent customer service.
c. Secure Website
Ensure the website uses secure encryption methods to protect your personal and financial information. Look for "https://" in the website's URL and a padlock symbol in the browser's address bar.
3. Responsible Gambling
Responsible gambling is a critical aspect of online gaming in Australia. To ensure your online gambling experience remains enjoyable and safe, follow these responsible gambling tips:
a. Set Limits
Determine your gambling budget and stick to it. Never wager more money than you can afford to lose.
b. Time Management
Set a time limit for your gambling sessions. Don't let it interfere with your daily responsibilities and activities.
c. Self-Exclusion
Most reputable online casinos offer self-exclusion options, allowing you to take a break from gambling if it becomes a problem.
d. Support Resources
If you or someone you know is struggling with gambling addiction, seek help from support organizations such as Gamblers Anonymous or Gambling Help Online.
4. Payment Methods
The choice of payment methods is essential for secure online gambling. Reputable online casinos offer a variety of safe and secure deposit and withdrawal options, including:
a. Credit and Debit Cards
Credit and debit card transactions are a common choice, but it's crucial to ensure the casino uses secure payment processing systems.
b. E-Wallets
E-wallets like PayPal, Neteller, and Skrill provide an added layer of security by not exposing your financial details to the casino.
c. Cryptocurrency
Some online casinos now accept cryptocurrencies like Bitcoin, which offer enhanced privacy and security for your transactions.
5. Game Fairness and Randomness
Ensuring the fairness of games is paramount in secure online gambling. Reputable online casinos use Random Number Generators (RNGs) to guarantee the randomness and fairness of their games. Look for casinos that are independently audited and certified by organizations like eCOGRA or iTech Labs.
6. Secure Account Management
Protecting your online gambling account is crucial. Follow these tips to ensure your account is secure:
a. Strong Passwords
Use strong, unique passwords for your gambling accounts and change them regularly. Avoid using easily guessable passwords like birthdays or names.
b. Two-Factor Authentication (2FA)
Enable 2FA whenever possible to add an extra layer of security to your account.
c. Beware of Phishing
Be cautious of phishing attempts, and never click on suspicious links or provide personal information to unknown sources.
7. Customer Support
Choose online casinos with responsive and reliable customer support. They should offer various communication channels, such as live chat, email, and phone support. Test their responsiveness with a simple query before committing to the casino.
8. Promotions and Bonuses
While promotions and bonuses can enhance your online gambling experience, be cautious. Always read the terms and conditions associated with these offers, as they often come with wagering requirements that need to be met before you can withdraw your winnings.
9. Mobile Gambling
Mobile gambling is on the rise, and many Australians prefer to play on their smartphones or tablets. Ensure that the online casino you choose offers a secure and user-friendly mobile platform.
10. Recognize the Signs of Problem Gambling
Understanding the signs of problem gambling is crucial for your safety and well-being. If you or someone you know is displaying these signs, seek help:
Chasing losses
Gambling as a means to escape
Neglecting responsibilities due to gambling
Borrowing money to gamble
Frequent arguments with loved ones about gambling
11. Staying Informed and Keeping Up with Changes
The world of online gambling is dynamic and constantly evolving. It's essential to stay informed and up-to-date with any changes, especially in the Australian regulatory landscape. Here are some strategies for staying in the know:
a. Industry News and Forums
Regularly check industry news websites, forums, and blogs that provide updates on online gambling in Australia. These sources can help you stay informed about regulatory changes, new casinos, and the latest trends.
b. Casino Notifications
Subscribe to notifications or newsletters from the online casinos you frequent. Many casinos send updates on promotions, changes to their terms and conditions, and other important information.
c. Regulatory Updates
Follow relevant regulatory authorities' websites or social media accounts to receive official updates on online gambling regulations in Australia.
By keeping yourself informed and adapting to any changes, you'll be better prepared to continue enjoying secure online gambling in Australia. Always prioritize safety and responsible gambling to ensure a positive and enjoyable experience.
Conclusion
Secure online gambling in Australia is entirely possible if you take the necessary precautions. Start by understanding the legal landscape, choosing reputable casinos, and practicing responsible gambling. Protect your personal and financial information, ensure game fairness, and secure your account. With these guidelines, you can enjoy your favorite games while staying safe and secure in the online gambling world. Remember, gambling should be an enjoyable pastime, so always keep it in check and seek help if you ever feel it's becoming a problem.