Ricky Gervais Net Worth in 2022 – he's Laughing all the Way to the Bank!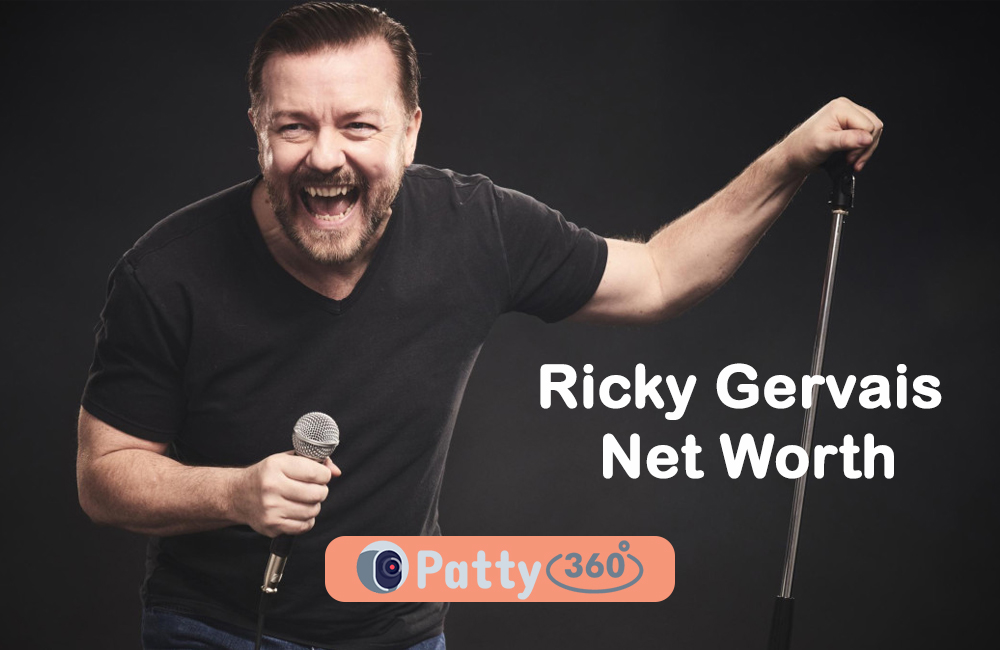 For a lot of 40 year old men, they start to acknowledge or fight age with many going through a mid-life crisis. With that in mind, you can imagine how Gervais was perceived when he tried to push his very own television show. Jump forwards near on 20 years though and a $110 million net worth proves life really does begin at 40.
From humble beginnings 
Gervais was born and raised in Berkshire, England by his parents Lawrence and Eva along with his three siblings Larry, Marsha and Robert. A fairly standard schooling presented Gervais with the opportunity to go to London University and, despite his obvious intellect, the best thing to come out of his stint there was the fact he met his partner, Jane.
Five minutes of music fame 
Gervais made a small foray into the music industry as one half of Seona Dancing and experienced his first taste of celebrity status – albeit in a very small way – in the early eighties and, whilst hits in the UK were hard to come by, the duo may well be considered a one hit wonder in the Philippines.
Chance friendships and so much more
Gervais was working in radio in the late nineties in a decent yet modest position when he put an ad out for an assistant. The man hired was none other than Stephen Merchant, who has gone on to become a long time friend and comedy collaborator of Gervais.
The pair only worked on radio together for around six months but after that 'The Office' was born – the first of many programs – and, given Gervais was a writer and lead actor – playing David Brent – he was flung into the limelight and the cash would flood in as well with seven countries running revised versions of the comedy show.
Shortly after their unprecedented success with The Office, the duo returned to radio where they bounced off their producer, Karl Pilkington, so much that they formed a trio. What followed was a number of comic creations including a world record breaking podcast and An Idiot Abroad, which aired in over 30 countries and became one of Sky One's most watched shows.
Hitting Hollywood
Alongside a rapidly growing portfolio of TV shows, Gervais made a move into the world of film and has covered a range of roles in the production process from writer to actor and onto director.
He's had roles as an actor in Stardust, The Muppets and the Night at the Museum franchise whilst he's written, produced, directed and acted in things such as Ghost Town and The Invention of Lying to truly show off his full range of skills. The movie work doesn't look like drying up anytime soon either with multiple works in progress.
Stand up Comedy
Like most comedians, Gervais also has a strong association for touring as a stand up comic. His original introduction to the circuit came in the late nineties but his real standalone work first took off in the 2000s with a quadruple of tours – Animals, Politics, Fame and Science and although he's since done further tours his comedic views are perhaps best seen at the Golden Globes where he's hosted, somewhat controversially, on four occasions with a record fifth appearance due next year.
There you have it, Gervais is a man with many strings to his bow so perhaps it's hardly a surprise that he's worth $110m.
Recommended: